Mission Adelante Community Development Director, Elena Chan, did not grow up anywhere near her current community in Wyandotte County, Kansas. In fact, she didn't grow up anywhere near the United States.

Elena grew up in formerly-Soviet Tajikistan, located in Central Asia between Afghanistan and China. She moved to the US a decade ago to study at Brandeis University, Heller School for Social Policy and Management in Boston.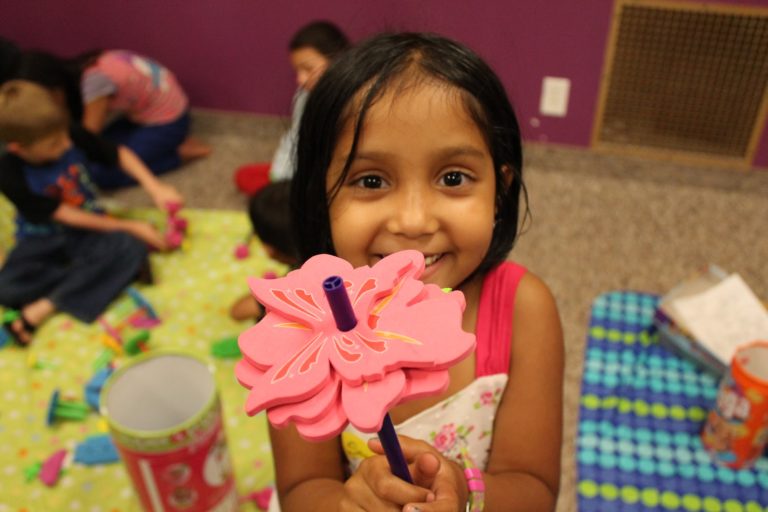 After finishing her graduate degree, getting married and moving to Kansas City, she came into contact with Mission Adelante through her local church. She was hired as their Community Development Director, a role that she had also held in Tajikistan.

Elena noted with gratitude that Mission Adelante is quite unique among nonprofits for its ability to accommodate her, an immigrant, in its upper leadership.

This is in step with Mission Adelante's vision of helping foreigners transition into new lives in the US. Its founders, Jarrett and Kristen Meek, were themselves foreigners in Costa Rica and Bolivia where they previously served as missionaries.

In that time, they were blessed with Costa Rican mentors who helped them learn the language, navigate the culture, and understand the logistics of documentation and travel. Upon returning to the US, they felt the calling to offer that same mentorship to foreigners who were themselves resettling in America.

In its first decade, Mission Adelante spent most of its energy helping individuals. In the past five years, they have begun widening their scope to address systemic issues that are affecting whole communities as well, which is where Elena's expertise comes into play.
Living and working in Wyandotte County

Mission Adelante primarily works in Wyandotte County, one of the most under resourced areas of Greater Kansas City. Meanwhile, neighboring Johnson County contains one of the 10 wealthiest communities in the country. It wasn't always this way.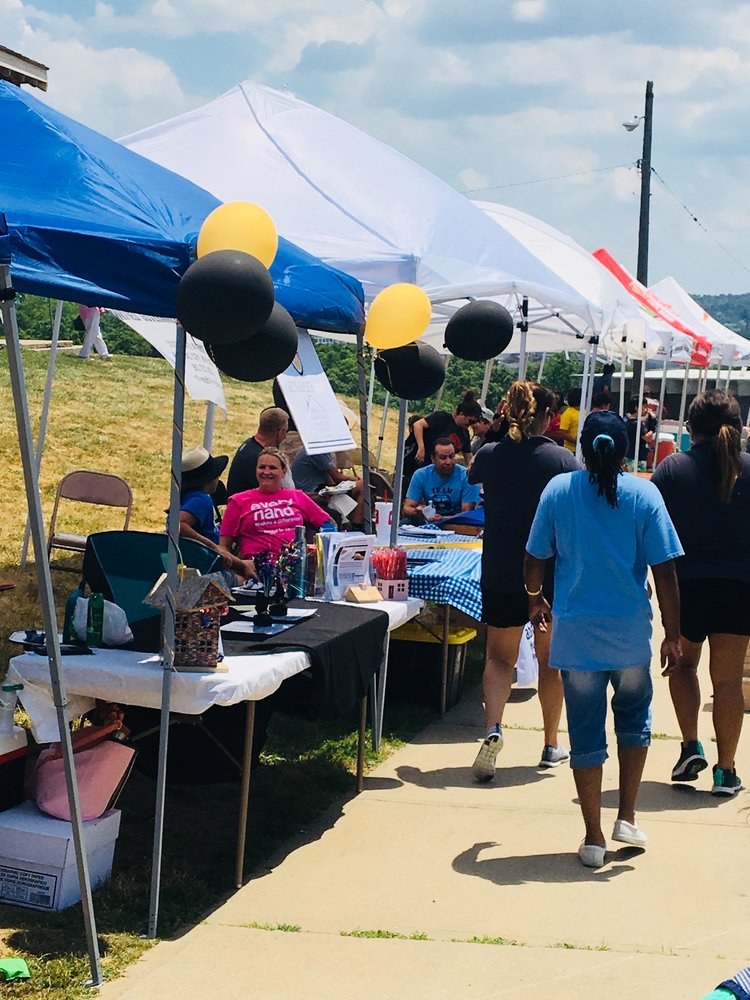 Between 1980 and 2010, a "white flight" emptied Wyandotte County of nearly a third of its population. White families migrated in huge numbers to Johnson County, taking their wealth with them.

Learn more about why refugees are seeking asylum at rising rates.
This could have meant a full economic crash. However, a growing Latino population moved into the neighborhood, revitalizing the economy. The number of Latinos living in Wyandotte County grew over 400%, which was enough of a boon to heavily offset the population decline and much of its economic consequence.

Immigrant families started businesses and spent money. Between 2003 and 2015, crime even decreased as the Latino population grew. The county survived.

Elena proudly reflects that immigrants saved Wyandotte from what could have been a much more severe economic depression.

Even so, there are many challenges for Wyandotte County. With immigrants and refugees still being resettled there, nearly a quarter of the population lives below the poverty line. A significant amount of residents have family members who are undocumented and new families are still arriving in need of language lessons, help with documentation, and resource assistance.
Building into a community, creating new partnerships

Elena's experience transitioning to a new country, new language, new culture, has served her well in her current position. Mission Adelante forms relationships with largely Spanish-speaking communities, with many recent immigrants from Nepal and Bhutan as well as Latin America. Her own journey gives her a vital point of reference as she helps families that are in the midst of transition.

One of the ways that Mission Adelante has been able to serve these families has been through Adelante Thrift, a thrift store that takes donations from churches, schools, and local organizations and makes those resources accessible to transitioning families.

Elena has taken a leading role in Adelante Thrift over the past two years and has been excited to see it grow into a profitable venture.

Beyond being able to fund a portion of Mission Adelante's community development – and hopefully more in the future – Adelante Thrift has also created many new relationships. As it grew, Adelante Thrift evolved into a community center as well- a place for different people to give and receive what they need, to share a space.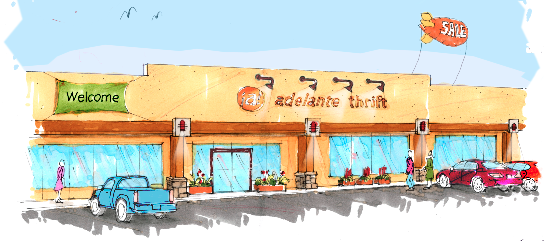 In just a few years, the store has generated 75 new partnerships with organizations in their community. Church groups, public schools – including a school for the blind – and even summer interns have come together to volunteer and help operate the store.
Joining forces with the Unified Government

Recently, Elena has helped Mission Adelante form a partnership with the local government.

In 2017, the Unified Government of Wyandotte County and Kansas City invited Mission Adelante to be a part of a new community transformation initiative. With funding from the US Department of Housing and Urban Development, the Unified Government is aiming to get the struggling Park Drive neighborhood back on its feet within 5 years.

Read how one Fresno community has transformed into a hotbed of social entrepreneurship.
This project is a case study for the neighborhood; if successful, the Unified Government hopes to replicate the model in other struggling communities around Wyandotte County. Mission Adelante eagerly accepted the offer, becoming a part of The Park Drive Neighborhood Project.
Collaboration is key

Partnerships and collaboration are key to Mission Adelante's practice, says Elena. It is also critical to the success of the Park Drive Neighborhood Project. So far, however, she has been realizing that different organizations often have very different goals and opinions about what is effective and where priorities should lie.

Collaborations can sometimes turn into exchanges, where organizations or groups are negotiating for the advancement of their own goals rather than for the growth and development of the project as a whole. Rather than, "What can we do together?" often, the question turns into, "What can you do for us?"

Learn more about the CCD practice of listening to the community.

Elena clearly sees the critical importance of relationship-building. The Park Drive Neighborhood Project is not the first of its kind; similar projects have been undertaken in neighboring states, some of which have failed. Those that did succeed were only able to do so with high levels of community participation.
Mission Adelante is in a vital position

Even so, she also recognizes that each organization has a different approach and doesn't blame them for that. They are all bringing something different and vital to the table. The challenge lies in figuring out how to arrange those resources and align them with good priorities.

To that end, God has placed Mission Adelante in an important position. With their previously established relationships in the community, Mission Adelante is able to provide a human face to the Unified Government's initiative and provide the government with a much-needed ear to the community's concerns.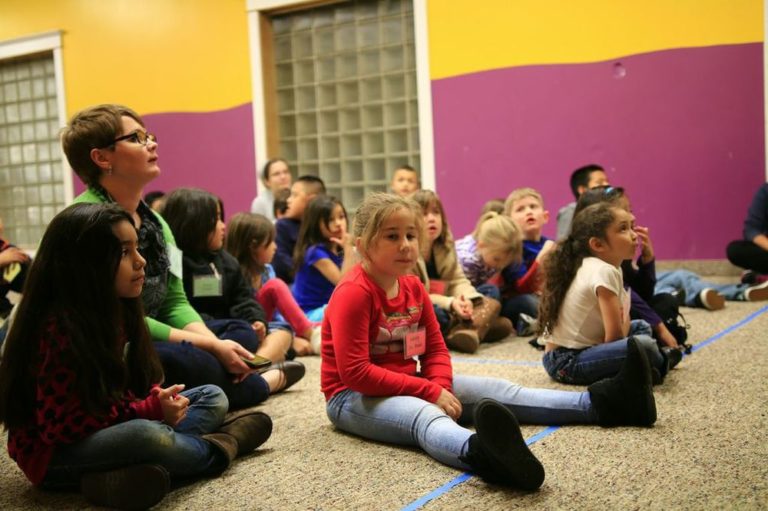 Especially in the current political climate, immigrant communities are often hesitant to trust the government. Many are understandably fearful. Mission Adelante is able to mediate between the two groups, helping to connect the Unified Government's financial power with the real needs of the community to bring lasting change and empowerment to the residents of Park Drive Neighborhood.

In the course of 10 years, Elena's journey has come full circle. As an immigrant herself, she is now able to help other immigrants resettle into a new home and a new life through Mission Adelante's work in Wyandotte County.