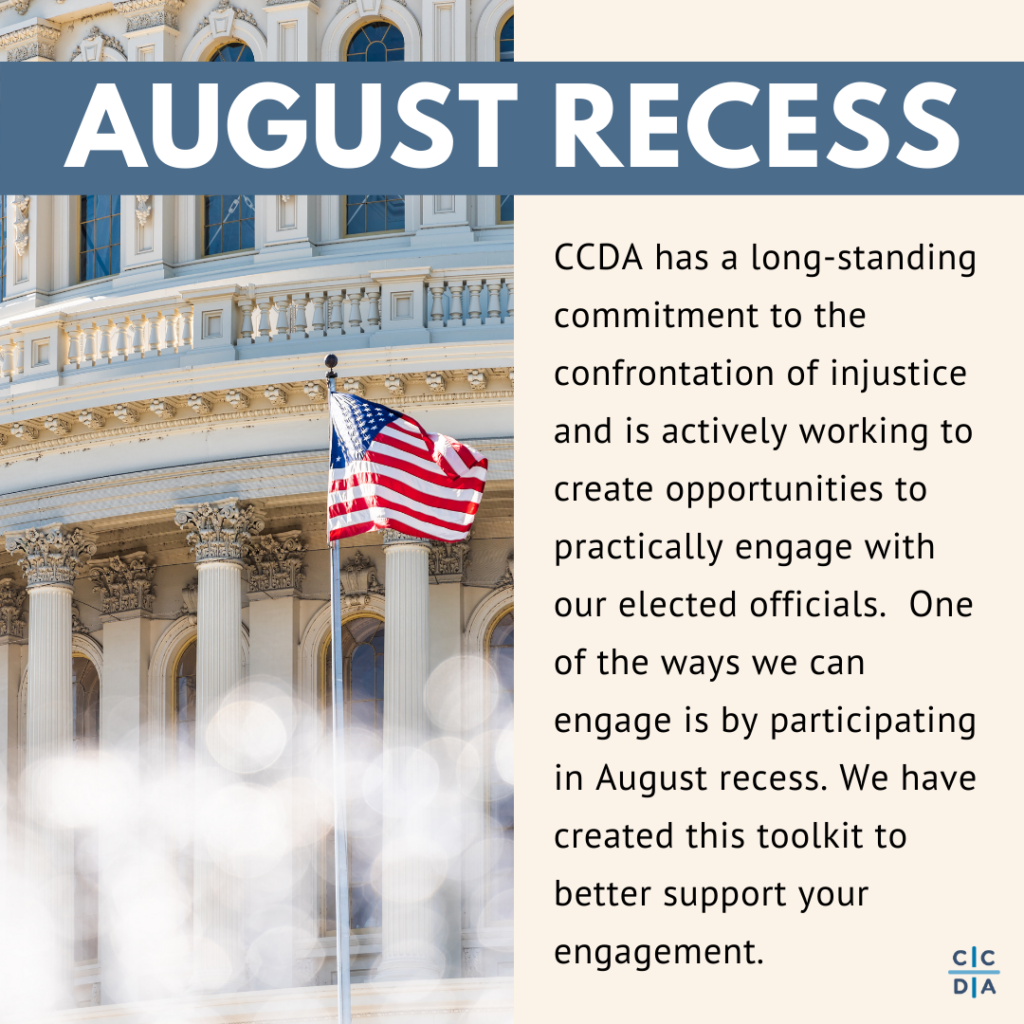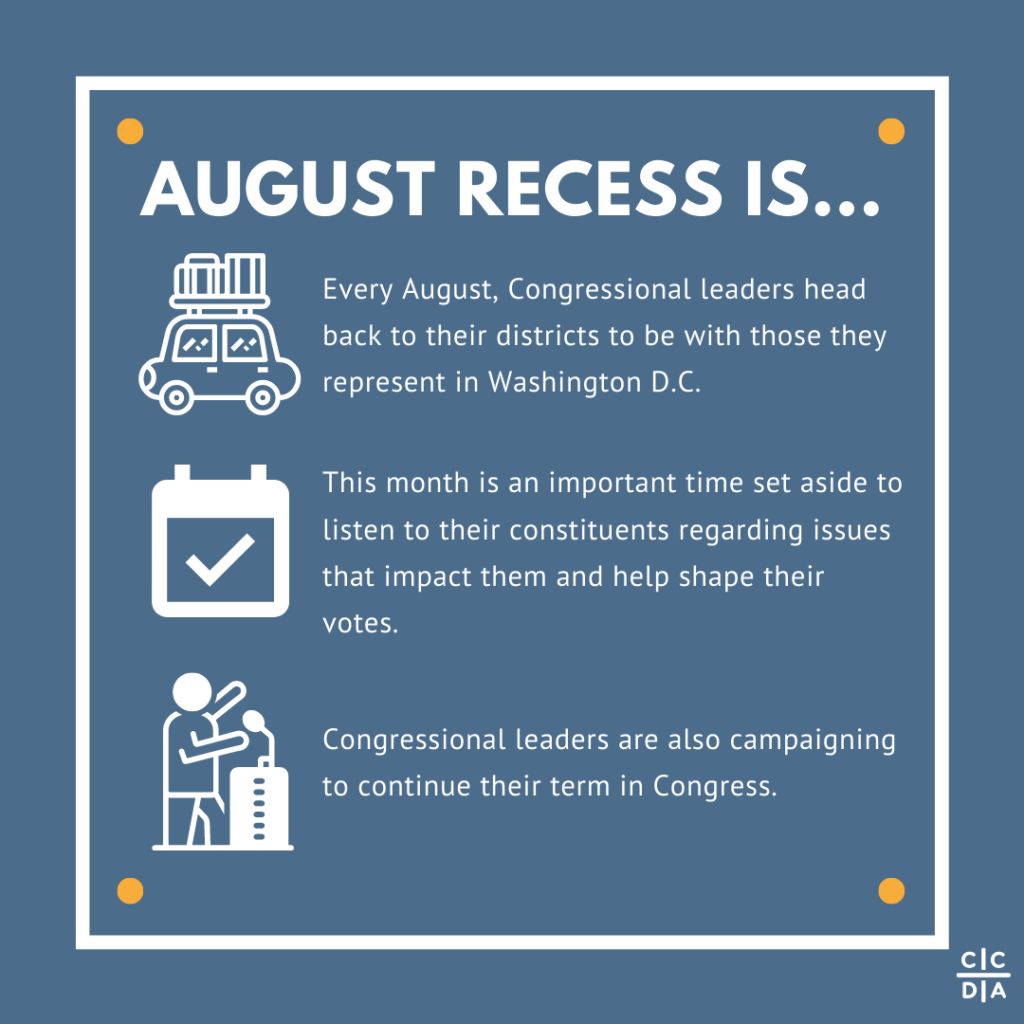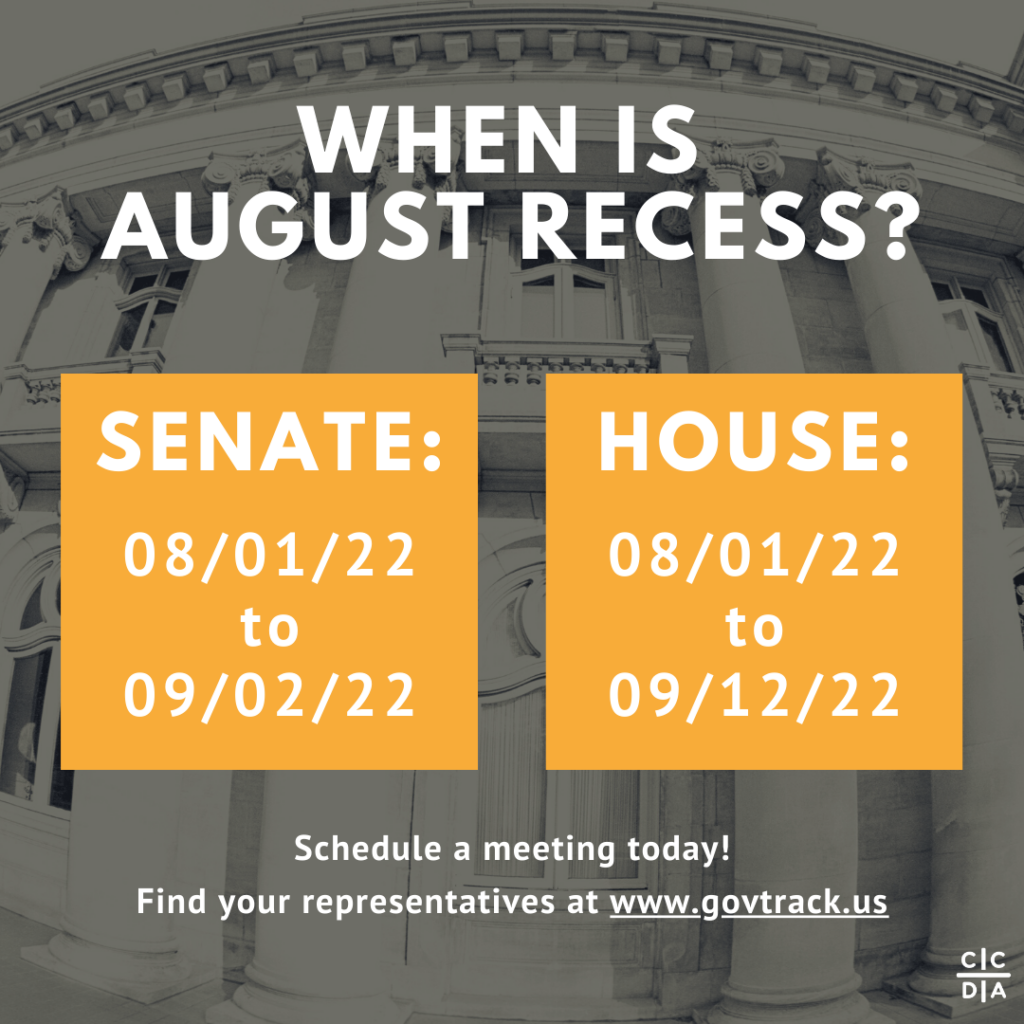 Why should we civically engage?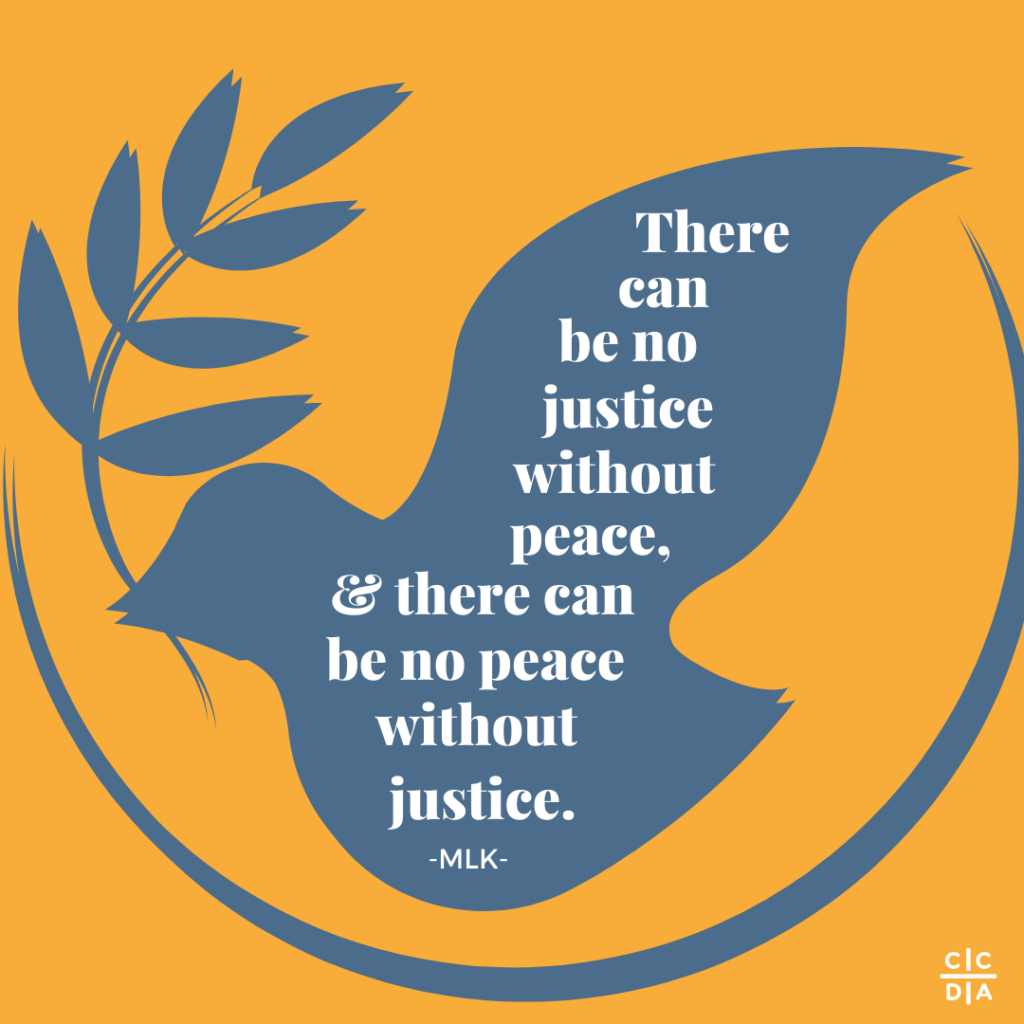 Although government policies and funding decisions affect us all, we know that many voices remain unheard or marginalized in the public square. As advocates for the poor and marginalized, we are committed to doing our best to bring what we know to these critical spaces. We do this because we know that advocacy works. Sharing your community's story can change attitudes, opinions, behaviors, and even policy and funding decisions. That is why we speak up and out about what we and our communities are experiencing. We have and will continue to mobilize & organize to see justice come to our neighborhoods. During August Recess, we recommit to and act out our desire to living the mantra, 'without justice, there is no peace.' We know this is how we will create justice and peace for all.
Will you join your CCDA family and commit to telling our representatives the stories of our communities?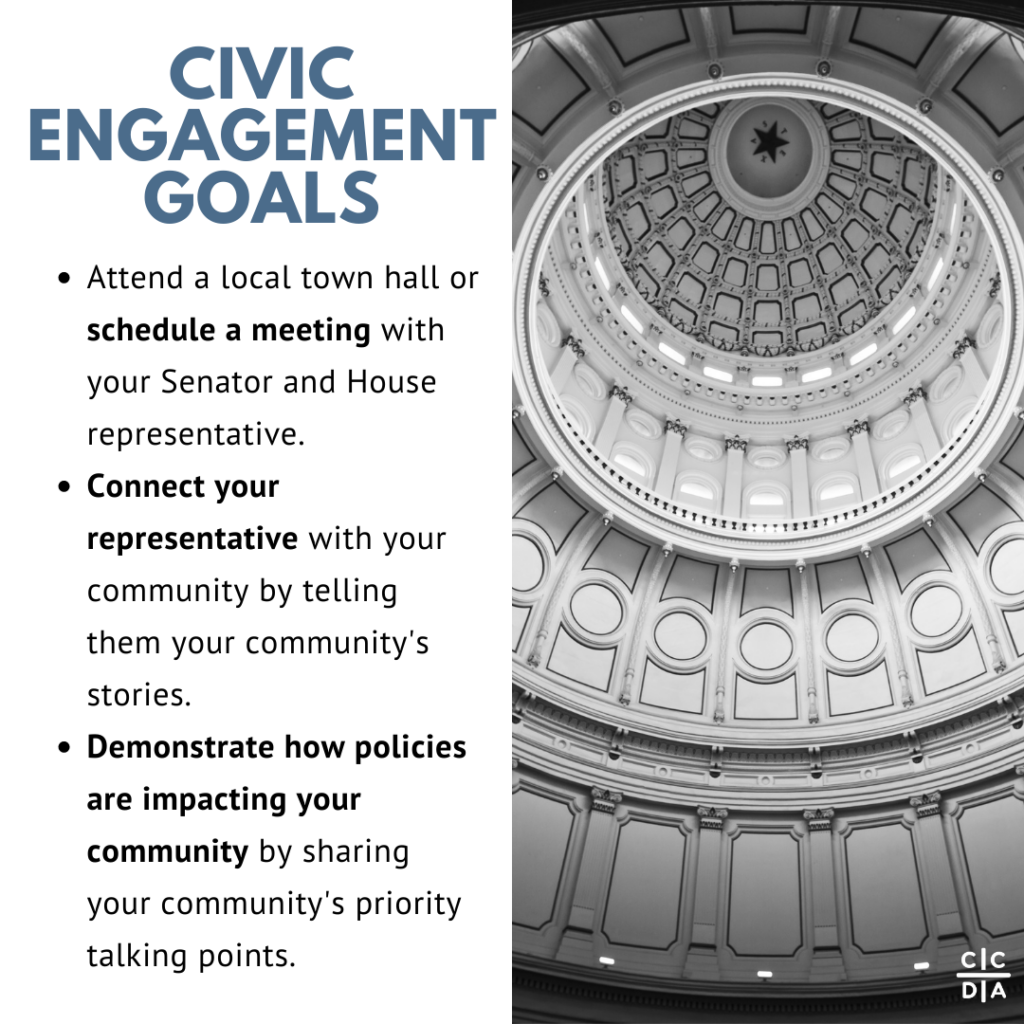 Our goals are:
Attend a local town hall or schedule a meeting with your Senator and House representative.
Connect your representative with your community by telling them your community's stories.
Demonstrate how policies are impacting your community by sharing your community's priority talking points.
In this toolkit, you will find:
Tools to Get Started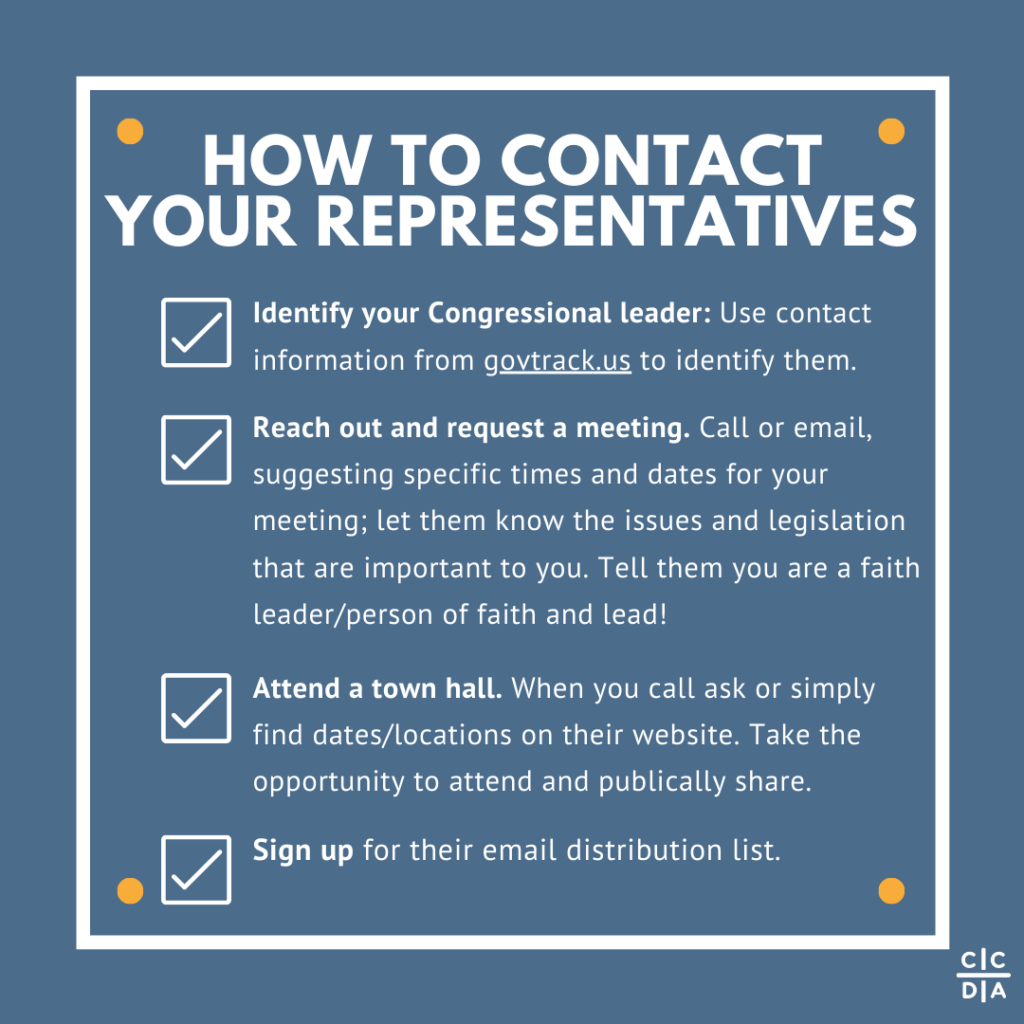 Contact your Representative
Follow up
Invite your representative to do an organization visit and have them meet your community. Sample itinerary here.
Issues CCDA is Lifting Up this Year
The sources of information for the following issues were not created and do not necessarily reflect the views of CCDA. If you need more clarity on any of the issues below, please contact [email protected].
Comprehensive Immigration Reform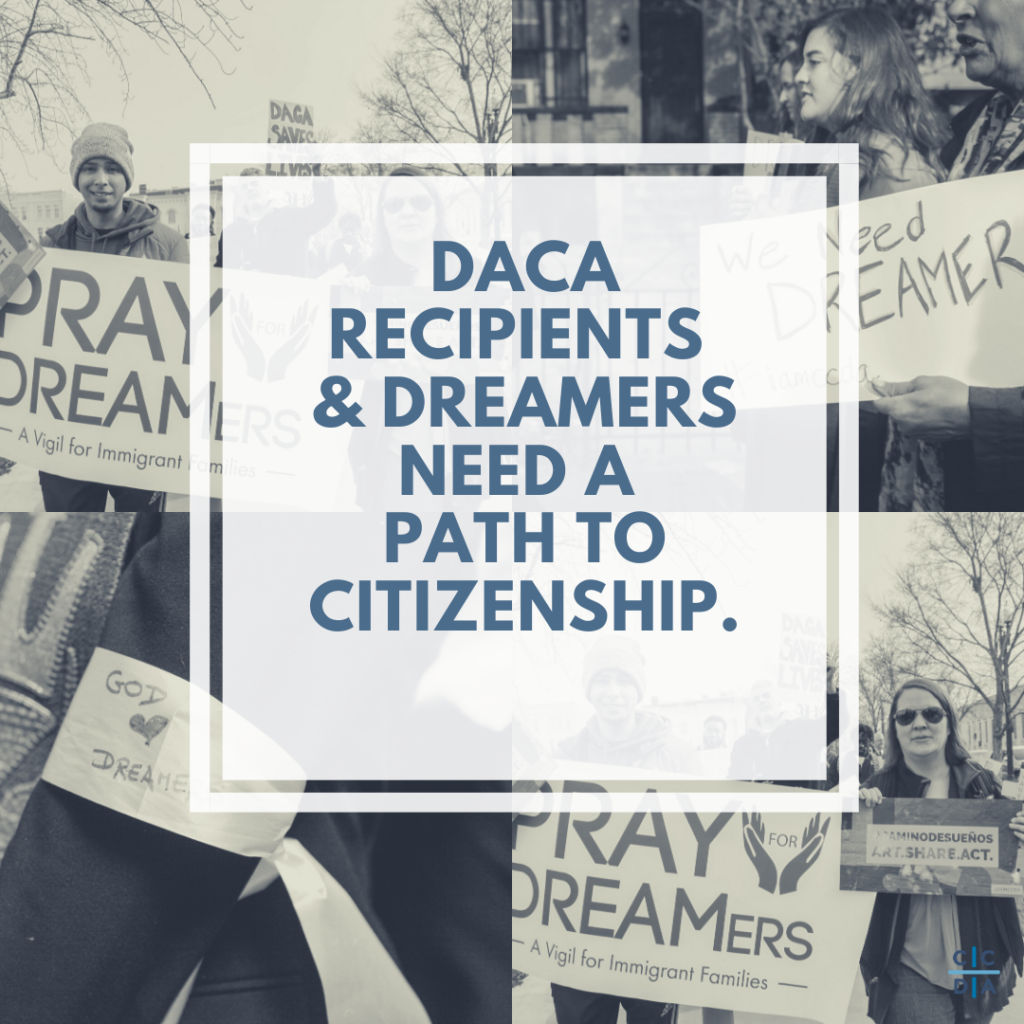 It is beyond time for the United States to enact real, comprehensive immigration reform. As a first step in reaching this goal, the Biden-Harris administration has proposed the U.S. Citizenship Act of 2021, H.R. 1177/ S. 348, a legislative roadmap for Congress to act upon.
Among other things, the package would:
provide an eight-year pathway to citizenship for nearly 11 million undocumented immigrants currently living in the U.S
prohibit religious-based discrimination and limit presidential authority to issue future immigration bans
expand access to Diversity Visas, expand refugee admissions, and other humanitarian protections
improve the asylum system and reduce immigration court backlogs
expand family case management programs
address the root cause of Central America migration with funding for anti-corruption measures
restart the Central American Minors program to reunite migrant children with U.S. relatives
provide resources to manage the southern border with technology and infrastructure instead of an ineffective wall.
Protect Voter Access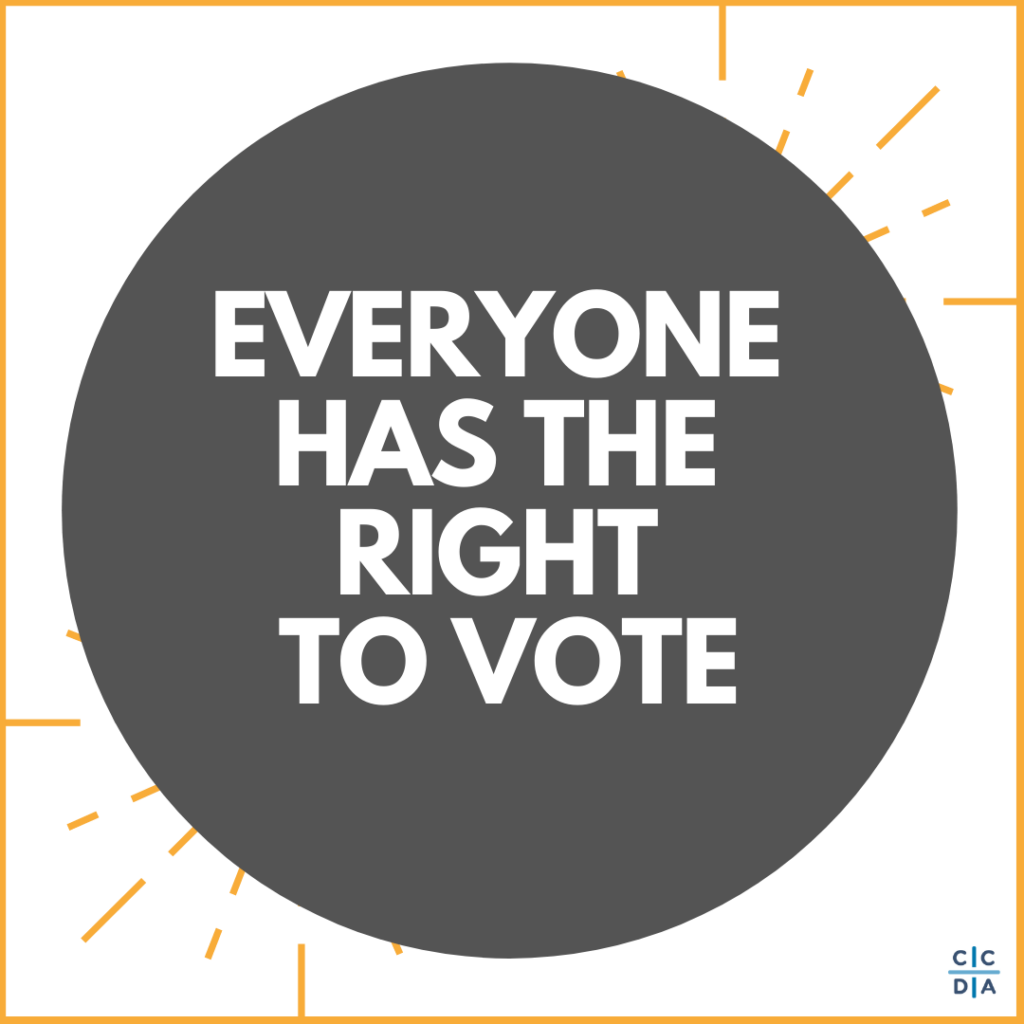 Voting on a single workday no longer serves the needs of modern Americans, who must find time to cast a ballot among jobs, childcare, and errands. The inconvenience is magnified by long lines at the polls and overwhelmed election officials and poll workers.
Voters in 13 states have no opportunity to vote early.
States administer elections and can adopt early voting on their own, but there should also be a national minimum standard. Congress can set minimum early voting requirements in federal elections. This mandate is one of the multiple reforms offered in the Voter Empowerment Act (S. 1437; H.R. 12), introduced by Rep. John Lewis (D-Ga.) and Sen. Kirsten Gillibrand (D-N.Y.), which would require states to provide at least 15 days of early voting.
After Senate Republicans successfully filibustered the For the People Act, Amy Klobuchar introduced the S.2747-Freedom to Vote Act (FTVA), in response to critiques of the For the People Act.This bill addresses voter registration and voting access, election integrity and security, redistricting, and campaign finance. Specifically, the bill expands voter registration (e.g., automatic and same-day registration) and voting access (e.g., vote-by-mail and early voting). It also limits removing voters from voter rolls. The bill establishes Election Day as a federal holiday.
Permanently Enact Child Tax Credit
The expanded Child Tax Credit has been a remarkable success at reducing child poverty and making strides toward racial and geographic equity. Before the expanded credit roughly half of Black and Latino children, and half of children living in rural areas, got less than the full credit because their families' incomes were too low. If the credit is made fully refundable, these children would receive the full credit amount.
Inflation has dramatically increased the cost of food and housing. The failure of Congress to extend the expanded monthly Child Tax Credit last December has hurt millions of families. Child poverty increased 41% in January 2022, after the expanded credit expired. Children in families with the least financial means are hurt most. In addition the loss of the expanded tax credit practically means that a family of four with moderate income and two children would get at least $2,600 less.
Stop Gun Violence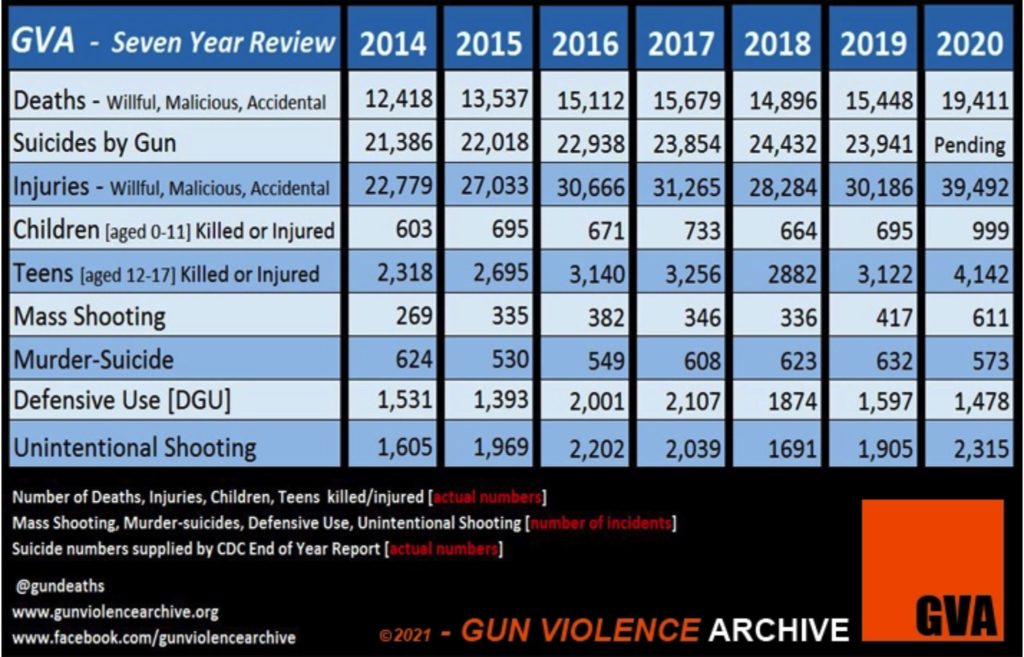 The United States has more guns per capita than any other peer nation; Americans constitute about 4% of the world's population but own 42% of all civilian firearms.
On average, there is a mass shooting almost every day of the year in the United States, and the nation has far higher rates of gun homicides than any other developed nation. Firearm suicides in the US are also dismally common, with suicides actually comprising the majority of gun-related deaths.
The Bipartisan Safer Communities Act is one of the most significant steps Congress has taken to reduce gun violence in decades, giving our law enforcement and prosecutors new tools to prosecute gun traffickers.
In the wake of the horrific massacres in Buffalo, NY and Uvalde, TX, House Democrats quickly proposed an emergency gun safety bill to attempt to provide some common sense reforms. The Protecting our Kids Act, H.R. 7910, makes minor but needed changes to current gun safety regulations. The bill would:
raise the age for purchasing semi-automatic rifles from 18 to 21 years old;
make it illegal to import, sell, manufacture, transfer or possess large-capacity magazines;
establish requirements for the safe storage of firearms in homes;
require existing bump stocks to be registered and ban the sale and possession of bump stocks; and
apply current federal firearms regulations to ghost guns.
Two bills have been introduced that would make background checks nearly universal. Rep. Mike Thompson (D-CA) has introduced H.R. 8, the Bipartisan Background Checks Act of 2021. Currently, background checks are mandatory for commercial gun sales but not for purchases made through private sellers, at gun shows, or online. H.R. 8 would close the "gun show loophole" by mandating that all sellers run potential buyer information through the FBI's National Instant Criminal Background Check System (NICS), including online and private sales. The bill maintains some exceptions for law enforcement officials, loans for hunting and sporting events, and for transfer between family members.
A second bill aimed at closing background check loopholes, H.R. 1446, has been introduced by Rep. Jim Clyburn (D-SC). The Enhanced Background Checks Act of 2021 would end the "Charleston loophole," a gap in the law that allows some gun sales to proceed without a completed background check…With some purchases, the FBI's NISC system is unable to make an immediate determination on a buyer. Under current law, the FBI has three business days to continue to investigate the buyer. If the FBI has not concluded the investigation after 3 days, the seller has the discretion to sell the firearm despite the lack of a completed background check. H.R. 1446 would close this loophole.
Gun reform organizations estimate 20% or more of gun sales currently do not include a background check, illustrating the clear need for the new legislation. Public support for expanded background checks has risen to over 90%, proving now is the time for Congress to take action against rampant gun violence in our country.
Thanks for taking a faithful step in sharing your community's story with our legislators. We pray that through your advocacy, your neighbors are able to experience community flourish as God intended. Please share your stories of engaging in the public square with us by emailing Christina at [email protected]