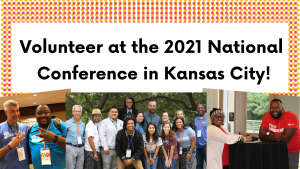 Calling all volunteers! We can't make our national conference happen without your valuable support. If you're interested in a special conference registration rate, please apply to volunteer. Applications will be accepted until all positions are filled!
---
The CCDA National Conference is made possible because of our dedicated volunteers. Thank you for considering serving in this role. Before you complete the Volunteer Application, please be certain you review the National Conference Schedule, and be prepared to give a minimum of 10 hours of time as a volunteer.
During this application, you will be asked to let us know the times you will be available to serve. We may not be able to accommodate specific requests for volunteer assignments, so we ask that you remain flexible to serve as needed during your available times.
The Volunteer Team will review applications on a rolling basis until we have filled all slots (approx. 125 volunteers). You will be notified whether or not your application is accepted, and we will provide details for registering at a special low cost volunteer rate of $69. If you have any questions about volunteering, please email [email protected]