The lights are up. The stores are bursting with tinsel, decorative trees and gifts galore. All around the world, a great "to-do" is made about Christmas. But just what are we really celebrating? The coming of Christ is undoubtedly one of the most monumental events in history; however, even during the Christmas season itself, the opportunity to give personal testimony of the life-changing Nativity story to a watching world is often missed. Furthermore, the season may come and go for many who identify as Christ followers with very little attention given to the significance of Christ's birth and the gift of our Savior.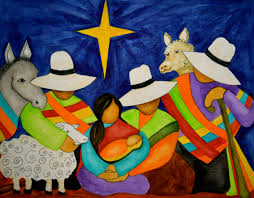 I am not exempt from personally experiencing the magical feelings that can come with the Christmas season for both children and adults alike. I grew up Protestant, being exposed to both Baptist and Pentecostal influences, and Christmas was a big deal in our home. I learned about Rudolph, Santa and how to decorate an amazing tree; and of course, my family sang Silent Night to honor the story of what the season was really all about. These traditions occurred year after year, but I was completely unaware of Advent until about 2 years ago.
If I had even heard the term Advent, I may have dismissed it as an unfamiliar "Catholic thing." Having grown more in my faith, and now being married with two beautiful girls, I found myself seeking to make the Christmas season more meaningful in our lives.
Recently learning that Advent (a version of the Latin word meaning "coming") is a time set aside in spiritual preparation before diving into the celebration of Christmas, I decided to join with believers all over the world in this sacred time of meaningful reflection on the greatest gift that was given to all mankind. Embracing Advent can help set the stage for a more heartfelt Christmas celebration. We can ask ourselves:
How can we avoid reducing Christmas to a commercialized season of overspending and indulgence?
How can we make this season a reminder of what our faith stands for and why the story of Christ's coming and future return is something worthy of committing our very lives to proclaim?
As may be the case with many who identify with the mission of CCDA, God has set me on a journey of drawing closer to the margins of society. I sense a strong call to become a more present vessel through which he can release his love in places often deemed as "difficult." At Christmas, my heart yearns to be reminded of what my faith rests on – to be reassured that in believing for transformation in the lives and communities around me, I truly have something to offer – the good news of salvation through the coming of Christ. Advent can be a great time for such reflection and renewal.
The time of Advent (the four weeks leading to Christmas) invites us to reorient our hearts towards what Christ's coming means in our lives today. We are prompted to ponder how Jesus came to Earth as a newborn babe and the anticipation associated with awaiting the promised Messiah. Additionally, we can allow ourselves to stir up fresh anticipation of his coming return at the end of time.
When we take a moment to think on the story of the Virgin birth with our natural minds, the story seems quite outrageous. It is not difficult to understand how many can associate the story of Jesus' coming with the make-belief of Santa coming down the chimney and reindeer flying across the sky. Thanks be to God that we have been brought out of the darkness of doubt and separation into the marvelous light of belief in an incarnate Savior who came to take away the sins of the world. (1 Peter 2:9) When we create space to reflect on these things, we can fully agree that celebration is indeed in order!
May our celebration extend beyond excitement for shiny lights, expensive gifts, concerts and Christmas trees. This Advent season, I pray that as believers from all traditions, we can take steps to turn our hearts towards a celebration steeped in reflection on what God did for us and all the world by sending his only son. Hallelujah! He came and will come again!
Behold, a virgin shall be with child, and shall bring forth a son, and they shall call his name Emmanuel, which being interpreted is, God with us.

Matt. 1:23
And the angel said unto them, Fear not: for, behold, I bring you good tidings of great joy, which shall be to all people. For unto you is born this day in the city of David a Saviour, which is Christ the Lord.

Luke 2:10-11
For God so loved the world that he gave his one and only Son, that whoever believes in him shall not perish but have eternal life.

John 3:16
---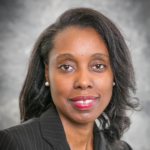 A Cleveland-area native, Vatreisha Nyemba brings a powerhouse of experience to BHITC from the public, private and non-profit sectors as the organization's first-ever Director of Leadership and Community Engagement. She holds a bachelor's degree in business administration and business management (Kentucky State University), a master's degree in public administration and nonprofit management (Cleveland State University) and is currently completing a doctorate in Transformational Leadership (Bakke Graduate University).