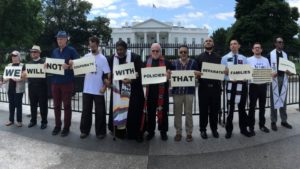 With the current crisis happening at the border, we as Christians often sit in the tension between being heartbroken by the news and images we see circulating in the media and feeling powerless in knowing what to do about it.  We, at CCDA, have been moved by the courage of our members to speak out and advocate for our brothers and sisters at the border. We see how this pressure has created some national movement regarding family separation – still, we desire to see asylum seekers and immigrants be treated with value and dignity at our border.  In addition to raising our collective voice, we recommend getting involved locally to continue the pressure nationally. Here are some practical steps for you to engage in your local community:
Spiritually prepare:
Give:
Give your financial resources to help people who are doing some of these things.  Here are a couple ways to give:
Purchase baby items from the registry through

Baby2Baby2theRescue here

.
Act:
From your computer / phone:
Contact your Congress representatives and senators OFTEN

The ACLU will connect you directly to your senators. 

Click here

.

Consider using

Resistbot

, which does the legwork for you in finding your representatives contact information and sends your message directly to them.

Write op-eds for your local newspaper
Sign on to some national campaigns putting political pressure on D.C.  

Here are a couple:
Volunteer
Take the next 100 days to get involved in a local campaign supporting people who have come out publicly against these horrific practices.
Volunteer at a shelter for Unaccompanied Alien Children (UACs) in your area (over 100 nationally).  It is a rigorous process to become a volunteer, but it is possible. Research is needed to find a UAC in your area.  
Volunteer at legal aid clinics where asylum families will go, should they make it that far, for help with their asylum cases. 
Join efforts with some local advocacy groups that are completely dedicated to immigrant asylum seekers
Protest Locally
As CCDA, we care about seeing people and communities wholistically restored.  That means we must have courage, empowered by Jesus of Nazareth, to speak up for the least of these in our society.  Today, that means doing something for our brothers and sisters at the border. Do something today.
Kit Danley
———–
Some Facts to Know: U.S. Immigration and Central American Asylum Seekers By Maureen Meyer and Elyssa Pachico
The number of asylum requests by Central Americans is rising because Northern Triangle countries are experiencing record levels of violence.

Central Americans who cite fear of generalized violence in their asylum applications are not making a baseless claim—courts have found that, under the very terms of U.S. asylum law, applicants fleeing gang violence and other threats qualify for protection.

Favorable outcomes for asylum applications from Central America largely depend on the immigration judge hearing the case and access to legal assistance.

U.S. agencies have not collected strong evidence showing that the U.S. asylum system is "currently subject to rampant abuse and fraud," as stated by Attorney General Jeff Sessions in remarks to Congress on Oct. 12, 2017.

Passing the "credible fear" test is not an "easy ticket to illegal entry in the United States," as stated by Attorney General Sessions on Oct. 12, 2017.

There is no evidence that criminal groups like the MS-13 are taking advantage of the U.S. asylum or immigration system to place gang leaders in the United States.

U.S. immigration officials have, over the years, failed to recognize circumstances in which large numbers of people are legitimately seeking political asylum, and thus have contributed to humanitarian tragedies.