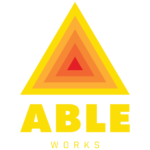 Website Able Works
Able Works is a charitable (501(C)(3) non-profit organization based in East Palo Alto, CA and Modesto, CA serving the Bay Area and Central Valley regions of California. Our vision is to live in a society where every individual has the ability to fulfill their greatest human potential. Our mission is to equip individuals with financial education, life skills and assets that enable them to live free from oppression and poverty.
AchieveAble Program:
AchieveAble is designed to ensure maximum higher education opportunity for graduating high school students who are not attending a 4-year college or university can successfully pursue and complete a credential at a local community college (this includes a certificate, an associates degree, or a transfer to a 4-year college).
Position Summary: 
The AchieveAble Program Manager has the critical role for carrying out the vision, execution, and success of Able Works' programs. The Program Manager will have the triple role of managing the program, coaching, and delivering the lessons which entails the responsibility for planning, recruiting, and executing the Able Works AchieveAble Program in the Bay Area. Responsibilities include managing the program throughout the project lifecycle, gathering and prioritizing participants, volunteers, schools, and Able Works requirements, articulating the vision, and working closely with partners and senior management to deliver a winning product. They are also responsible for participation retention and working with partners and participants to ensure goals are met. The Program Manager identifies refinements to the program and contributes to long-term planning for all aspects of the program.
Summary of Management Responsibilities of the Program Manager:
Planning the overall program and monitoring the progress
Setting goals for the program and the people delivering the program
Developing and managing the criterion for program evaluation and success, especially in regards to formative assessment for life skills, college entrance, and a greater understanding of economic mobility.
Managing the budget
Managing the schedule
Managing risks and issues and taking corrective measurements
Managing all individuals who are part of the program delivery team
Managing communication between participants, volunteers, contractors, and Able Works staff to ensure smooth operations
Aligning the program goals with the overall mission and purpose of Able Works.
Developing and maintaining program documentations such as the program delivery documents, forms for risk control, evaluation documents
Measuring OKRs and KPIs and other data analytics to evaluate effectiveness
Incorporating new learnings to further refine and improve programs
Delivering program lessons to participants
Conducting 1:1 coaching sessions with participants
Regular Activities:
Program Delivery:
Manage day to day operations of program according to annual plan
Equip all stakeholders to fully understand program model (relevant research, target demographics, program components, expected outcomes and progress indicators)
Organize and maintain a system that participants and program delivery people can follow for maximum effectiveness
Maintain schedule of weekly and monthly activities to reach program goals
Communicate regularly with all stakeholders
Be attentive to issues that could present potential problems and plan how to avoid them
Communicate weekly progress reports and noteworthy items to Regional Director
Develop and manage program budget
Manage established partnerships to ensure program success and sustainability
Evaluate and modify curriculum as needed
Manage contracted school advisors and coaches
Deliver program lessons to participants
Conduct 1:1 coaching sessions regularly with participants
Learning and Evaluation:
Develop a measurement plan with Learning and Evaluation Team to measure progress toward meeting program outcomes and progress indicators
Oversee collection of data through participant tracker, pre- and post-program surveys, and more
Ensure staff capture all data in a timely and accurate manner
Attend Data and Evaluation Team meetings on a regular basis to assess progress and learn for opportunities to improve impact
Monitor progress to plan (progress indicators, and expected outcomes)
Staff and Volunteer Management:
Develop volunteer strategy to support program as needed
Recruit, train and manage volunteers
Participant Recruitment:
Develop and oversee a recruitment strategy that includes pipeline goals
Outreach and marketing materials for partners and/or participants
Tracking recruitment activities and progress (pitches, referrals, etc.)
Capturing prospect information (interest forms)
Community Outreach:
Identify needed community resources
Speak on behalf of Able Works and AchieveAble at fundraising, donor, and community meetings to increase awareness and funding potential
Management Responsibilities:
Develop and implement marketing and outreach plan
Ensure quality control of cohort experience
Social cohesiveness of cohorts
Cultural relevance
Meeting unique needs of each group
Ensure data is captured
Review and remedy challenging cases
Lead and/or facilitate internal and external meetings
Identify and train potential leaders for future cohorts
Evaluate and revise program as needed
Recruit and manage guest speakers
Coordinate and collaborate with fellow team members and senior management for program cohesion
Ideal Candidate Will Have the Following Qualifications:
Bachelor's degree or equivalent work experience, preferably with case management experience.
Minimum 2 years experience in high school level teaching or youth development
Possesses a keen understanding of the unique conditions under-resourced students encounter in their daily lives
Basic understanding of finances and financial literacy
Confident and outgoing with an ability to inspire and communicate with classroom teachers and volunteers
Proven strong communication, both written and oral
Fingerprint clearances
Valid California Driver's License
Vaccinated against COVID (prior to start)
Access to a reliable form of transportation and proof of active car insurance
Strong computer skills, familiar with Google Suite, Adobe, Canva, and Mac OS
Preferences:
Relationship with and familiarity with schools in Bay Area and partners in the Bay Area education system
teaching credential
Master's degree
2-5 years experience in high school level teaching or youth development work
Small group facilitation and individualized coaching experience
Spanish language proficiency
Prior experience in working with underserved, under-resourced youth
Strong interpersonal skills and cultural/emotional literacy – interact effectively with people from a wide variety of backgrounds, read situations well, adapt behavior to suit the situation, and develop mutually beneficial relationships
To apply for this job email your details to hr@able.is