By Mayra Macedo-Nolan, CCDA Board Chair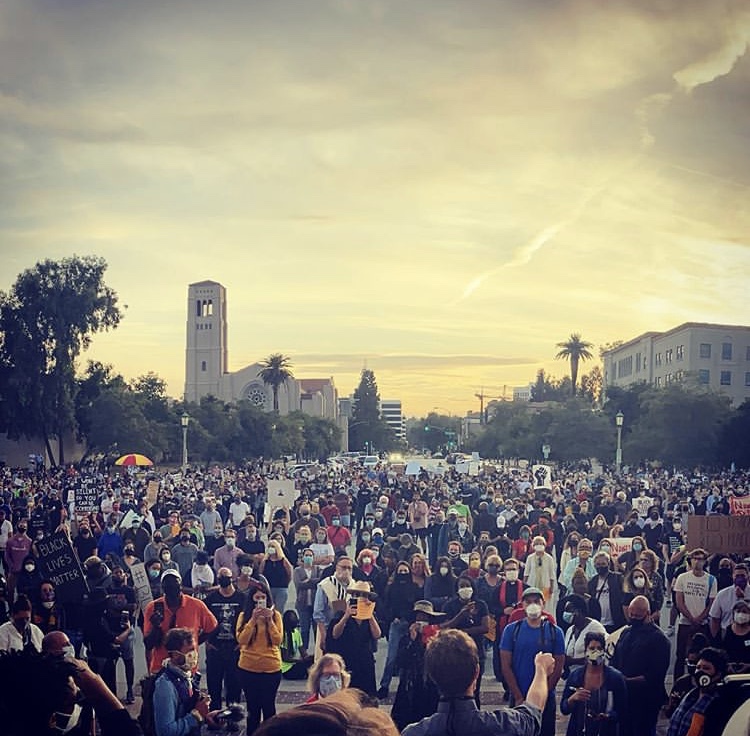 The majestic crown of the City of Roses, otherwise known as Pasadena City Hall, was the backdrop for two protests that drew significantly diverse crowds in support of the #blacklivesmatter movement. Dozens of faith leaders and their congregations, a couple thousand cars and several thousand people protested together to remember and honor the lost lives of our siblings #georgefloyd, #breonnataylor and #ahmaudarbury, along with our own communities' losses #kendrecmcdade, #leroybarnes, #RJthomas.
Their lives were lost to the individual and systemic sin of white supremacy – their murders were rooted in hate, police violence against black and brown bodies and the systemic oppression present in every sphere of society. We gathered to say #nomore #nomas and declare our commitment to ensure change.
What the masses did not know was that 15 years ago, when our City Hall was being restored and retrofitted, a group of clergy were allowed to go deep into the lower levels of the structure while its foundation was exposed to pray for this city, its leaders, and residents.
They prayed prayers of hope for the people. That the lions, garland, crowns and keys that adorned the façade would be a sign of the presence of God's Shalom in our city and would result in every person being seen as royalty. They prayed that strength and courage would mark our leaders and enable them to lead in recreating a community where abundance and opportunity is available to all of its inhabitants. They prayed for revival. They prayed for justice.
Standing on the steps of City Hall this week, facing the masses, Pastor Jean Burch of Community Bible Church knew that this moment was on the arc of what God is doing in our midst. The prayers in the depths of the structure – the foundation, were for ALL THE PEOPLE. Yet the reality is that in our city, some people are left behind or left out.
Our hashtags are names of black and brown men and women. Our schools are made largely of lower-income black and brown children. We have more private schools in our city than we do public schools. Our wealth gap is among the highest in the nation. While we have gated communities and neighborhoods lined with multi-million-dollar homes, the poor in our city have to march and fight for a living wage. Our gentrifying neighborhoods are pushing the poor out of our community, resulting in smaller black and brown congregations.
There was significance and power in the unity of the diverse crowd. ALL THE PEOPLE were crying out against injustice and demanding change. The black church, the brown church, the white church, the Asian-American church, the immigrant church, the large church, the small church, the old church, the new church. The non-church, the anti-church.
In order for us to experience the perfect Shalom of the God of Love, the movement towards change, must be fought by all of us for all of us. Can we do it? Can we move beyond the words and hashtags and ensure that black lives matter in our city? Can we prioritize the most marginalized? Can we place people over profits? Can we do more than gather together in high profile moments of crises like this one and be fueled by momentum to work together to realize a just community where all of our residents can flourish? The heart and mind of this idealistic pastor believes that we can.
---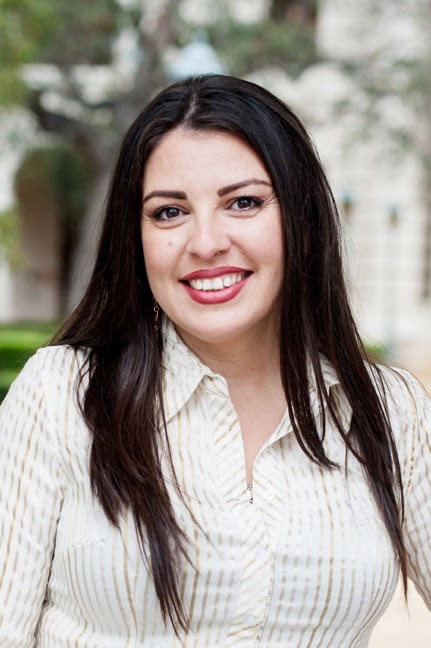 Mayra grew up in East Los Angeles and currently lives in Pasadena, CA, and serves on pastoral staff of Lake Avenue Church, a large congregation that has been at the same location for nearly 120 years. Her experience and passions range from youth and leadership development, non-profit management, cross sector collaborations for community transformation, organizational dynamics, race & faith, and the challenges of women and minorities in church leadership. She serves on various local and national boards and is Chair of the Board of Directors of the Christian Community Development Association (CCDA). A focus of her current ministry is mentoring young leaders as change agents in the local church and community. She is married to Chris and they have four children ranging in age from 7 to 28. Besides Jesus, Mayra loves her community, the challenging and sacred call of pursuing justice….and….shoes.