Isaiah 53:4 – "Surely our griefs He himself bore, and our sorrow He carried:  Yet we ourselves esteemed Him stricken, smitten of God, and afflicted".
Night Thoughts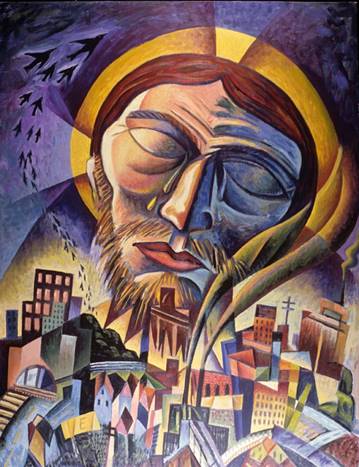 by William F. Bell
It is our emptiness and lowliness that God needs, and not our plenitude. —Mother Teresa
Somehow by day, no matter what, I patch myself together whole,
But all my effort can't offset
The nightly nakedness of soul When angels in a dark descent Strip off my integument.
I am a cornered rebel pinched
Between night's armies and my lack,
And when inside the bedclothes hunched
I feel the force of their attack,
I hardly know what I can do, Exposed to God at half-past two.
I once believed my being full,
But night thoughts prove that it is not. Waking scared and miserable,
I scrape the bottom of the pot
And then must bow down and confess
Totality of emptiness.
Kings once ventured, it is said, To offer gold and frankincense, But I send nothing from my bed Except a tattered penitence,
So very little has accrued
From years of doubtful plenitude.
God who tear away my cover,
Oh, pour your Spirit into me
Until my emptiness runs over
With golden superfluity,
And I bow down and offer up
Yourself within my earthen cup.
Source: "Night Thoughts" by William Bell from America Magazine, Vol. 187 No. 18 (12/2/2002)
Additional resource:
Lenten Meditations:   A Book by James B. Janknegt
Lenten Meditations: Forty paintings based on the parables of Jesus, one for each day of Lent: artwork, meditations, and prayers http://bcartfarm.com/books_lent.html