By Sunny Sue Chang Jonas
Transformation.
We wait for His transformation.
We wait in line to buy a snack, we wait for a friend to return a phone call, we wait for the day to be over, or for a new day to begin. We anticipate what's coming next and in doing so, we wait. In fact, sometimes we're so focused on patiently waiting, that we can miss the good and present gifts that have been placed right in front of us.
Theologically speaking, this is the tension of life, isn't it? Eschatologically speaking, we are mere mortals, privy to the limitations and parameters of this human life, as well as heavenly citizens… our true home is not this earthly dwelling place, yet this world is definitely our home for now. We are bound and boundless- finite and infinite; made of gritty earth and yet containers of pure Goodness; called to be fully present and yet looking forward and upward…
The anticipation for transformation can be long and tiresome. I'm a teacher and a mom. In both contexts, I get to love and work with children who are not yet fully formed. In these relationships I get to participate in the yearning to reach potential not yet realized and goodness not quite gained.
I see students who are wonderfully smart and skilled with gaps that reveal needs and deficiencies- needs that, on most days, I feel glad to help fill and support. I see my children who know and love Jesus, but like me, struggle in living what they believe. It's hard to continuously let go of our gritty, earthy selves and allow His presence, transformation, and positive change to be our relentless pursuit. My work at home and at school involves ongoing anticipation – living in the "now" as well as the "not yet."
In 2019, Chicago experienced a teacher strike. In the process, administrators like myself, teachers, families, and students, all waited in the liminal limbo of trying to come to a consensus. During the long wait,  I read a timely tribute to my students, in Spanish, then English, a book on Cesar Chavez, and even considered wearing my Chicago Teachers Union t-shirts while delivering donuts and coffee to the teacher line every morning with my principal. 

This world in its brokenness gives us plenty of chances to anticipate. We not only wait on Jesus' transformation in the "now and not yet" balancing act of our redeemed but still sinful lives, we also wait for things like mutual agreements and fair contracts. In the long arc of things, we have the daily opportunity to make the broken things right again as we wait on Jesus' coming again. He is both our Teacher and Father. He sees our gaps and lovingly assists us to be better, stronger, fuller, and truer.
He gives us Himself in this process. The incarnation is the very act of God coming down as a human being, as a baby. The mundane miracle. God in full glory and in the banal. Given tri-fold riches in a stable. The "Now and Not Yet." He gives us Himself to scaffold us into the better "not yet" that we can be, and a world that is also "not yet" good.
This National Education Week, let's echo the prophets Habbakuk (1:2), Zechariah (1:12) and in anticipation, cry out: "How long?" Let us be both imminently present to the things and people God has called us to, and full of anticipation and waiting, such that we know these things fall short of the Good that is to come.
We love you, Jesus. We wait for you in the present and anticipate the good in the future that you've given us to increase. We co-labor and co-sojourn with the things you are doing in this broken, "not-yet" world of ours, and we say we need you and wait on your personal and systemic transformation in us and in our schools.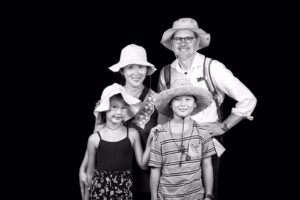 Sunny Sue Chang Jonas is an assistant principal in Chicago, Illinois, and lives in Wheaton, IL with her hubby Mark, and two sweetsmartstrong kids, Henry (5th grade), and Pearl (3rd grade). She has been a teacher's assistant, classroom teacher, and music teacher in K-12 public schools in Oregon, Connecticut, and Illinois, and has been a consultant and administrator as well. She has a doctorate in Bilingual Education from Northern Illinois University, masters in Educational Leadership from Teachers College Columbia University, and a bachelor's in Sociology and Education from the University of Chicago. She has been involved with CCDA since her employment with World Relief refugee youth education services in 2009; she has shared at CCDA conferences on Artists' Circles, curriculum development, refugee bilingualism, emotional intelligences, and data-driven parent engagement, and also served on the worship team.