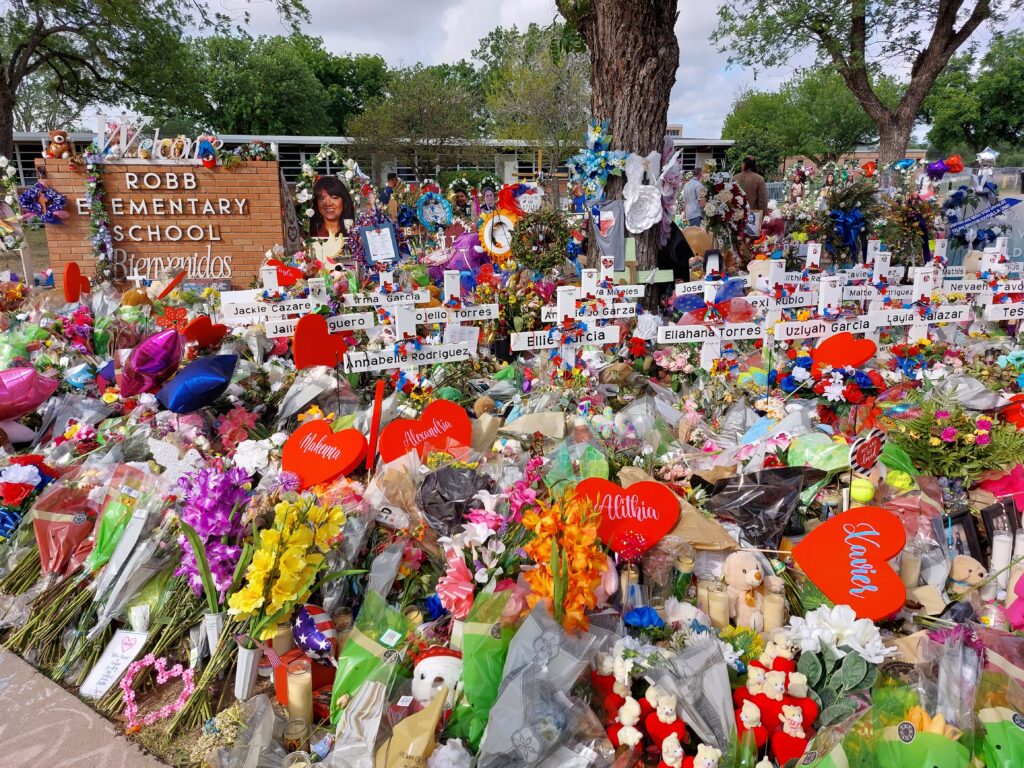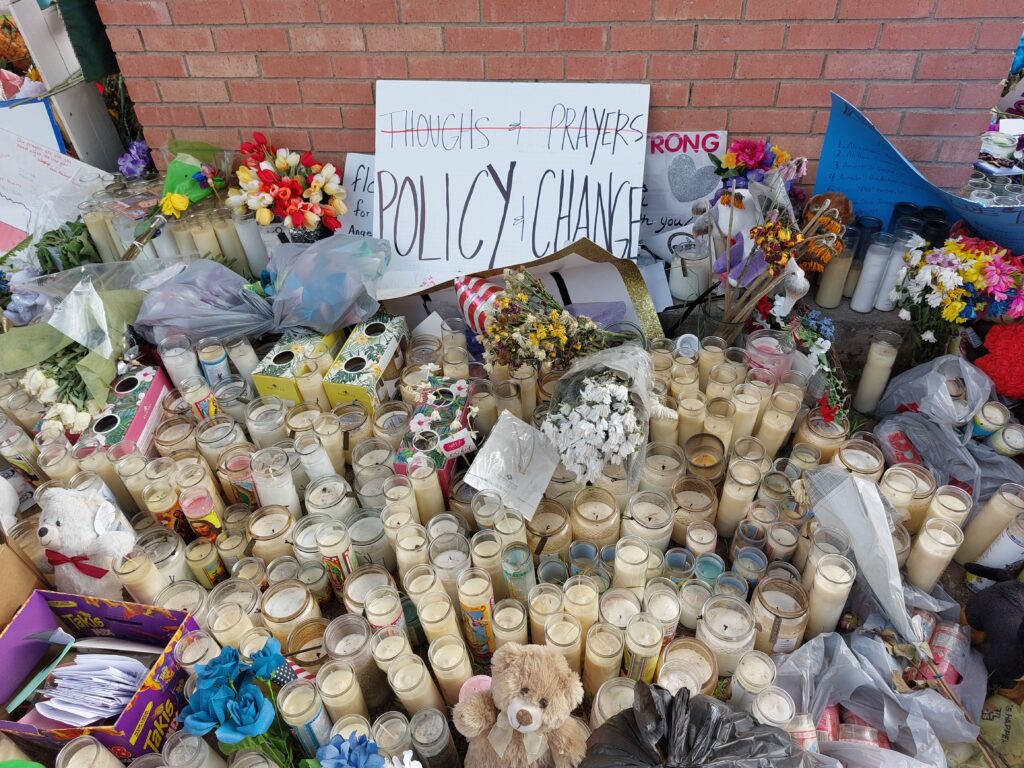 by Christina Foor & Norma Ruiz
Read Part 1 of this blog here.
It's been a year since the terrible mass shooting that happened in my hometown of Uvalde. Last year, I reflected on Mark 4 as a way to process the deep despair and hope I was feeling in that moment. This year, the story of the man with an unclean spirit in chapter 5 has brought me hope in a different way.
In the story, Jesus and the disciples arrive in a community where "a man who was tormented by an unclean spirit came up to him….No one could bind him….No one was strong enough to overpower him…Day and night he wandered about the burial grounds…He would never stop wailing." (Mark 5:4,5 FNV) Once Jesus arrives on the scene, the man comes begging for healing, falls down before him, and is holistically healed from the storm inside. In the process, Jesus names the problem (Mark 5:9), exposes the evil (Mark 5:13), provides for the man's physical and mental needs (Mark 5:16), and empowers him to share his transformative, healing story (Mark 5:20). However, the cost is high: the townspeople witness this firsthand as they watch their economic livelihood (in the form of pigs) sink to the bottom of the sea (Mark 5:14). In terror, they reject the healing Jesus offers for fear of the costs that this healing brings.
To me, gun violence in our country feels like a storm so powerful that no one is strong enough to overpower it. It lurks around, day and night: a wailing cry of death and despair that haunts our nation. Unable to calm the storm myself, I am tempted to put it out of sight and out of mind, hoping the evil won't fully consume our communities. Just as often, I am like the townspeople, uncertain of what Jesus might do if I give him a chance, and scared of what that might cost. Yet, I hear Jesus' call to faith; he invites us to remember that he alone has the power to overcome the storm of gun violence. He desires to expose this evil, provide for the physical and mental wellbeing of our communities, and invites us to be a part of his transformative healing story.
Below is a piece written by Norma Ruiz from my parents' church in Uvalde. She shares with us the ways her church has responded to Jesus' invitation to expose gun violence, provide for the physical and mental wellbeing of the Uvalde community, and how Jesus is weaving together a beautiful story of healing. I'm grateful for her words to us today.
Introduction:
My name is Norma Ruiz, and I am the wife of Pastor Joe Ruiz; we serve at Templo Cristiano/Tree City Church in Uvalde, Texas. I have spent the majority of my career as an educator, starting as a kindergarten teacher in the Uvalde District for 16 years before transitioning to the surrounding areas. Currently, I am employed by Sabinal ISD as a 1st grade teacher. In July 2021, my family experienced a devastating loss when our son, Joey, tragically lost his life in a motorcycle accident at the age of 27. This unimaginable event led me to connect with a support group of angel moms who understood the pain of losing a loved one. Through this experience, I discovered the healing power of community and later became acquainted with and a facilitator for GriefShare. Today, I want to share my thoughts on the aftermath of the Uvalde shooting, our church's response, and the path to healing.
Community Support and Healing:
In the aftermath of the Uvalde shooting, our church's immediate instinct was to reach out to the families of the victims, providing comfort and support. People from all across Texas and beyond continuously contacted us, offering their assistance and solidarity. Trained organizations specializing in disaster response quickly mobilized alongside our church members, working together to provide aid and relief. We personally visited families who generously opened their doors to us, offering prayers and emotional support. Many compassionate individuals even parked their vehicles at our church's parking lot and prepared meals for the affected families. The outpouring of generosity didn't stop there – our community received food and had access to various activities, all of which were offered free of charge. Furthermore, our church received monetary help that we used to assist those in need.
During this challenging time, an organization called GriefShare reached out to us. Two leaders came forward to introduce their program, which aims to provide support to those navigating the grieving process. We fervently prayed for God's perfect timing and, last year, we started our first GriefShare session. The Uvalde Methodist Church graciously allowed us to use their building, showcasing the power of unity and collaboration in offering GriefShare to the community. Building upon the success of our initial sessions, our second round of GriefShare started in March and will conclude in May of 2023. Currently, we have nine members actively participating in the program.
Uvalde is still divided around gun control. Our community was understandably flooded with resources; so much was given in such a short time that it consumed some without allowing people to fully grieve. For several months, our city was filled with activities aimed at lifting the children's spirits, and rightly so. They had the best intentions and people from around the nation wanted to do anything to alleviate the shock and terror our little town had just gone through. The children felt loved by so many; but it worries me that some children and adults have yet to be pointed to the One who heals, comforts, and brings real peace.
While these efforts were well-intentioned and brought comfort to many, it is important for us as a church to ensure that true healing and communal unity are not neglected. Our church remains committed to being the hands and feet of God, supporting our community through initiatives like building a playground for kids to play and by offering long-term programs such as GriefShare.
Addressing Gun Violence:
I firmly believe that gun violence should be an integral part of our current discussions, both locally and nationwide. It is important to acknowledge the common denominators observed in mass shooters. The Uvalde shooter exhibited many warning signs. We must address these underlying causes of gun violence openly and proactively. While it may not be politically correct to acknowledge these facts, it is crucial to identify and care for these individuals and offer the necessary help and support.
Like many others, the Uvalde tragedy affected me deeply. However, I have become increasingly skeptical of the media's intentions as they seem more focused on sensationalizing stories rather than providing accurate information. Additionally, some political leaders exploit such tragedies to further their own agendas. The presence of evil in our world has become all too apparent. This tragic event has raised questions about the providence of God and why such terrible things happen. While we cannot fully comprehend these events, it is important to recognize that the enemy seeks to steal, kill, and destroy. Moving forward, we should strive to be proactive in identifying and caring for individuals who may need help and support, especially those struggling with their mental health. Together, we can find the necessary support.
Promoting Mental Health Nationwide:
On a national scale, I encourage others to prioritize mental health and advocate for licensed professional counselors (LPCs) in every school. Furthermore, it is crucial to be well-informed when voting for policies aimed at effectively preventing gun violence. Let us put pressure on the education system and policymakers to provide the necessary resources and support for mental health services. It is vital for all of us to be well-informed when voting for policies aimed at preventing gun violence effectively. Let us seek out policies that address the root causes of such incidents, promoting unity and the well-being of our communities.
Conclusion:
God is still showing up. He continues to remind us how fragile life is and how we should cherish every moment. God continues to show us the bottom line: He is our Salvation. God has blessed our church with many opportunities to reach out, and we continue to be his hands and feet and pray for our community like never before.
Prayer Requests:
In closing, I ask for your prayers in the following areas:
Clarity for those who need to mourn, that they may find solace in turning to God during this process
Stewardship of the abundance of resources in the area now
Volunteers/organizations that are in place right now would listen to the community and help it heal
Unity and not division
Forgiveness for each other
Healing from trauma
God would silence the negativity of those in authority

Featured Resource
Reducing Gun Violence Toolkit
This toolkit is brought to you by CCDA's Reducing Gun Violence Affinity Network. The network started with a small group of practitioners looking to address the gun violence that happened in their communities in 2021. We then created this toolkit in hopes that you and your community would take steps in addressing the roots of gun violence. We invite you to hold space to pray, lament, come alongside, and advocate for your neighbors. May we purpose as a collective to love our neighbors until justice flows like a river and righteousness like a never-ending stream.