Mental Health Awareness provides an opportunity for awareness and learning about faith and mental health within a CCD context. Let's discover together how incorporating awareness and holistic approaches to mental health can restore and transform community, life and ministry. Within May each year we are hold space for deepening our understanding, conversations and engagement with the community, with lived experience mental health survivors, licensed professionals and CCD practitioners. Check out mental health resources and 2023 offerings below!
Program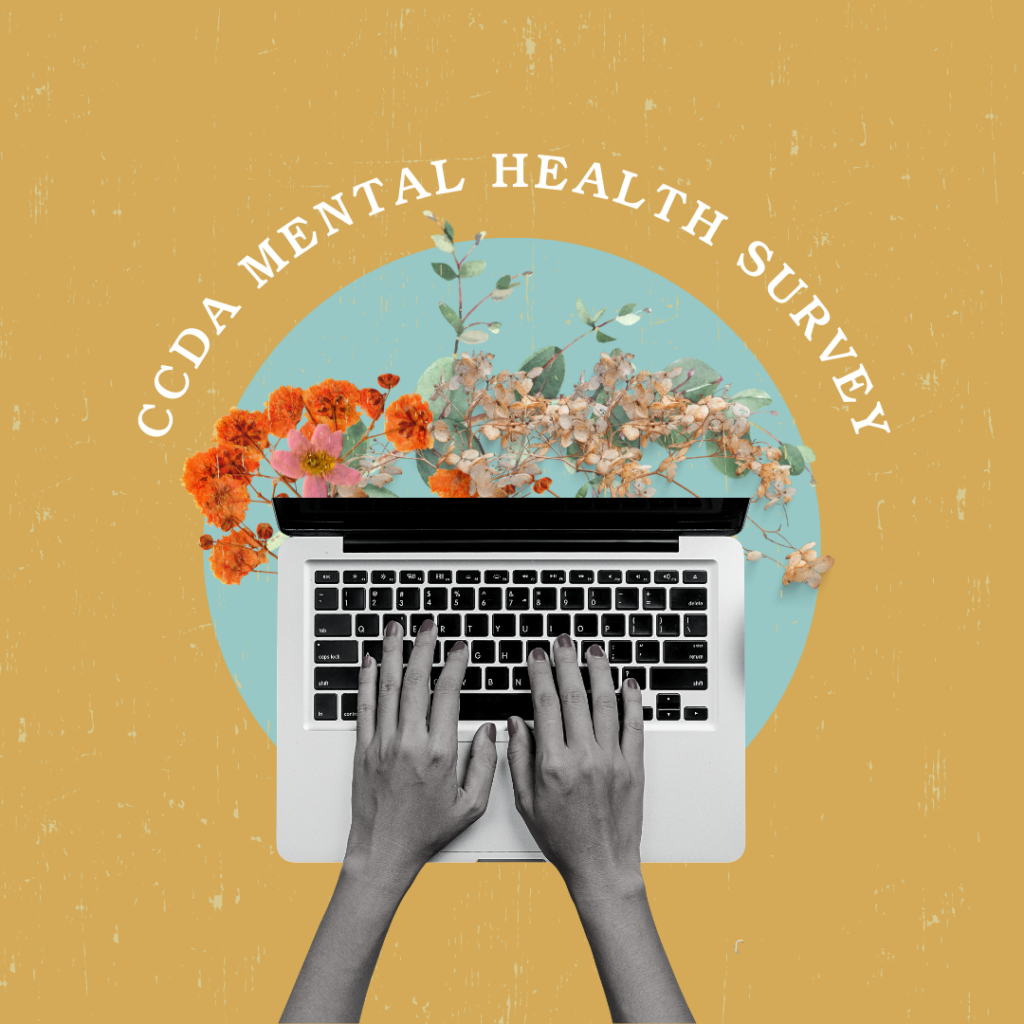 Our survey is currently closed. CCDA would like to better understand the mental health needs and experiences of the our audience in order to create improved and new behavioral health courses, resources and support.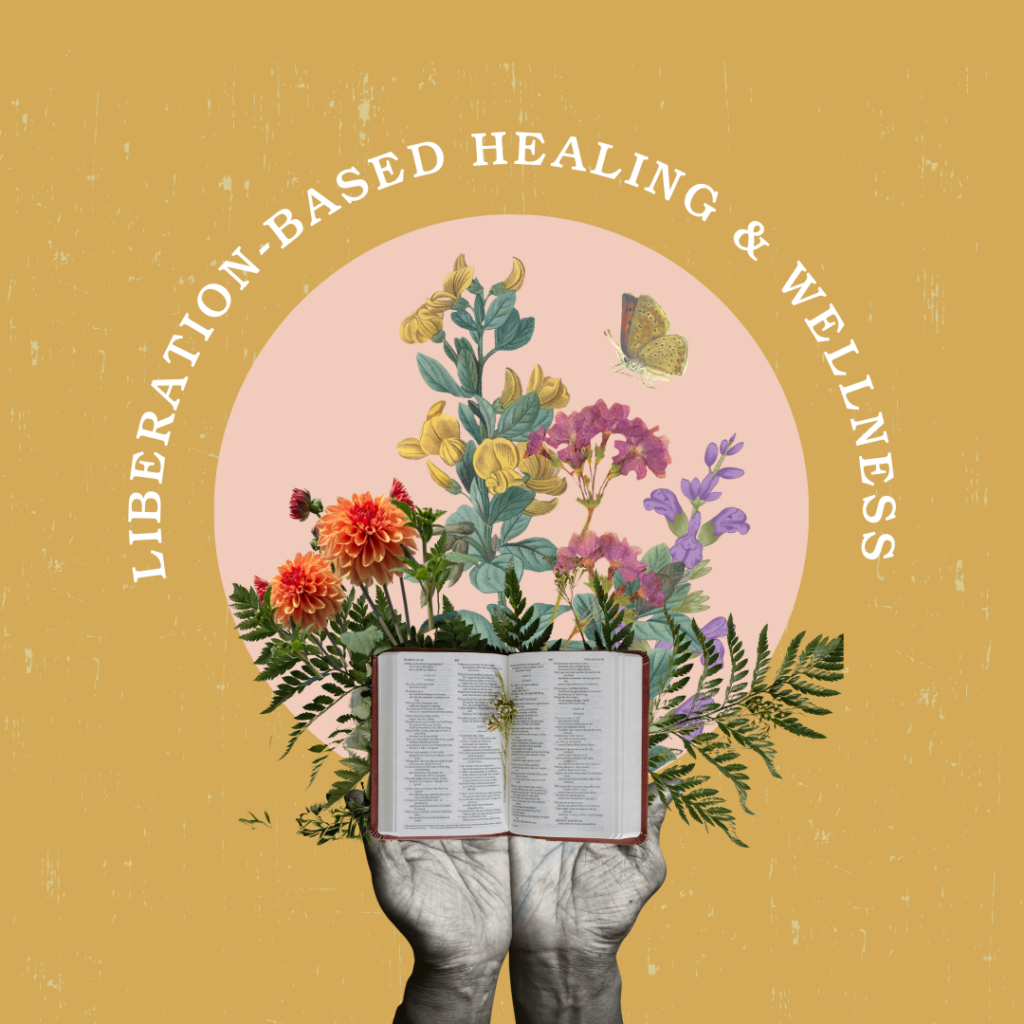 How do we understand ourselves in a way that brings healing? What does it look like to utilize wellness as resistance? It's impossible to effectively help others if we don't take care of ourselves.
Stephanie Moore, LICSW facilitates healing liberation-based practices and biblical principles to form a framework to understand how our experiences shape ourselves and our communities. Experience greater holistic wellbeing and the ability to bring their best selves into our work. Utilize skills learned as takeaways and tools for use in your organizations and communities. Registration for this event has closed.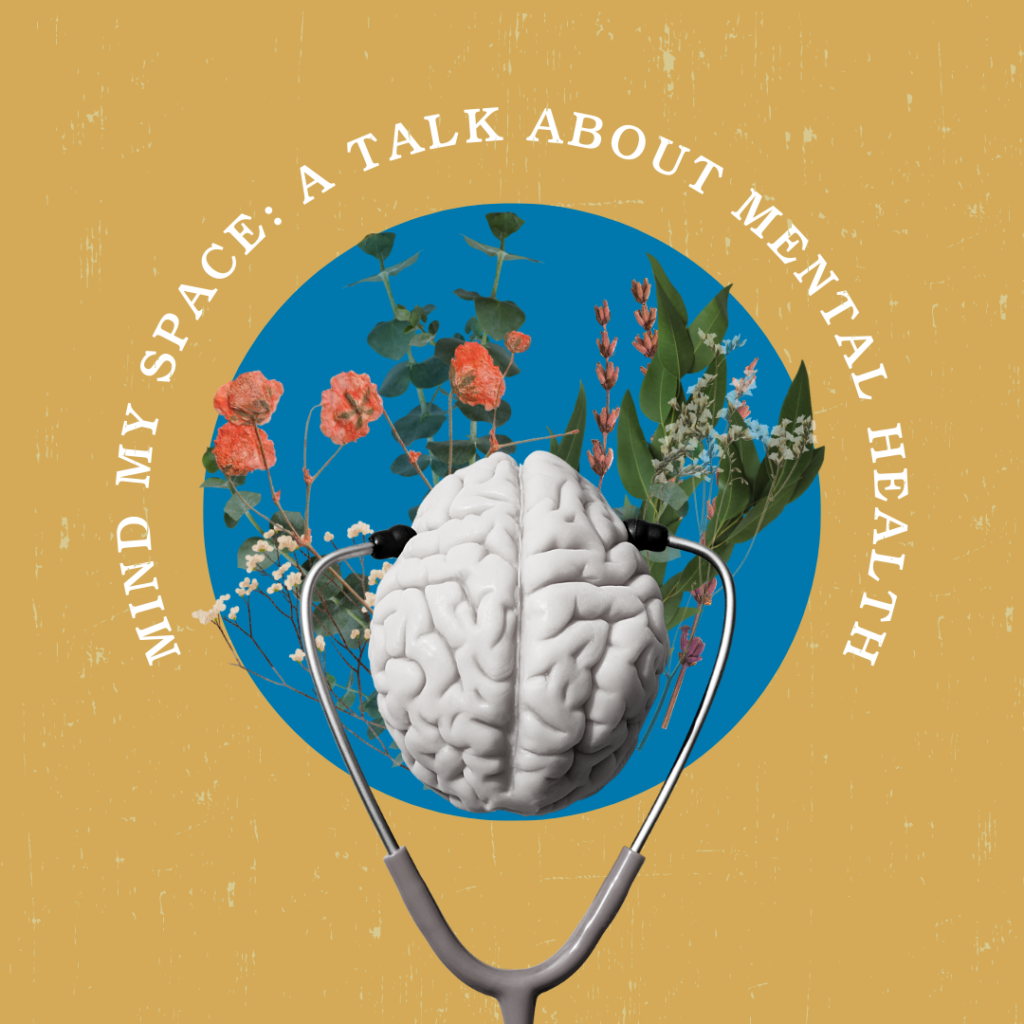 Join CCDA's Behavioral Health Affinity Network facilitators Lyndal Bedford, Trishonda Roberson, along with Marie Moy, and Justin Little on May 10 from 7-8pm EST to hold space for deepening our understanding, sharing experiences and engaging with one another around mental health. This event offers a space for participants to engage with one another and share their experiences, knowledge, and questions around mental health and CCD. Through this conversation, participants will gain a deeper appreciation for the interconnectedness of social, economic, and spiritual factors in mental health. We will explore practical ways to support mental health within a CCD context. Registration for this event has closed.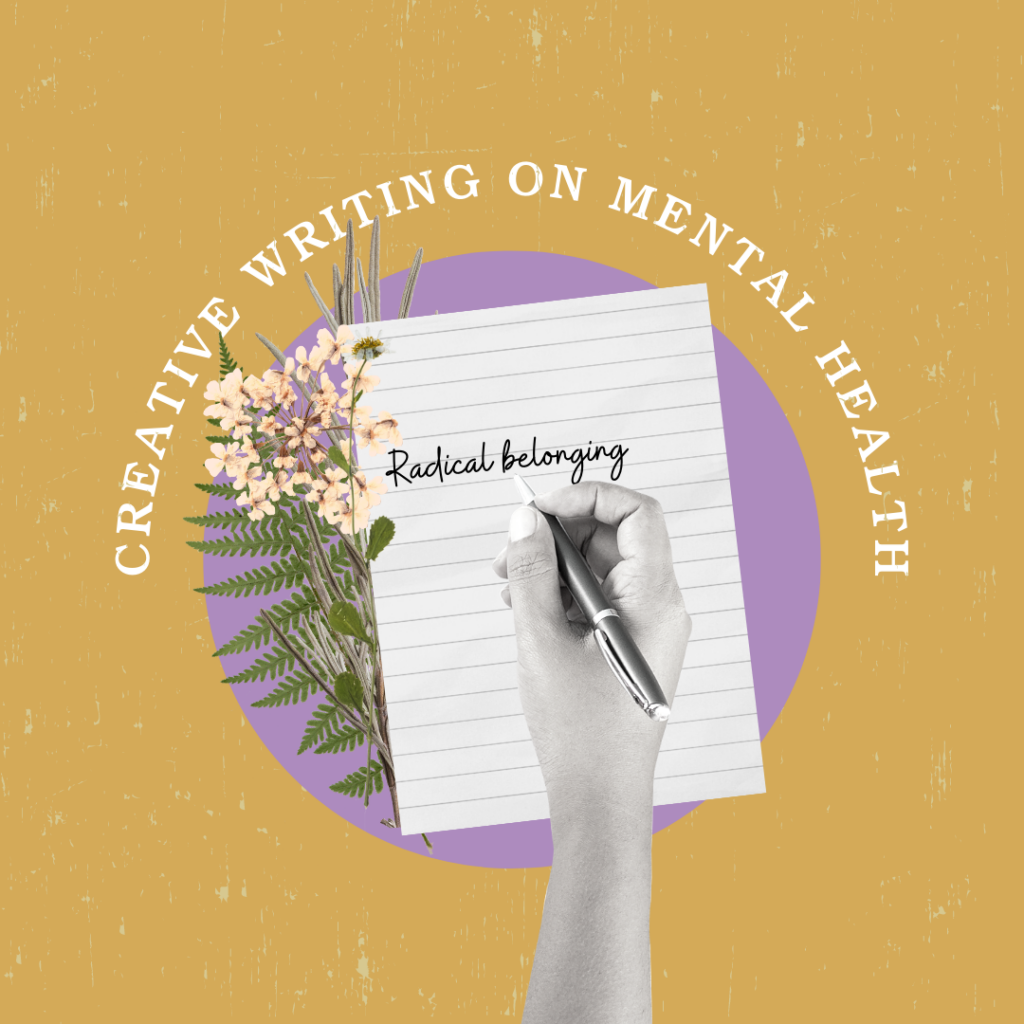 Beginning May 1, 2023, visit CCDA's Blog and follow @iamccda to read the beautiful creative writings for Mental Health Awareness Month from our contributors lived experience.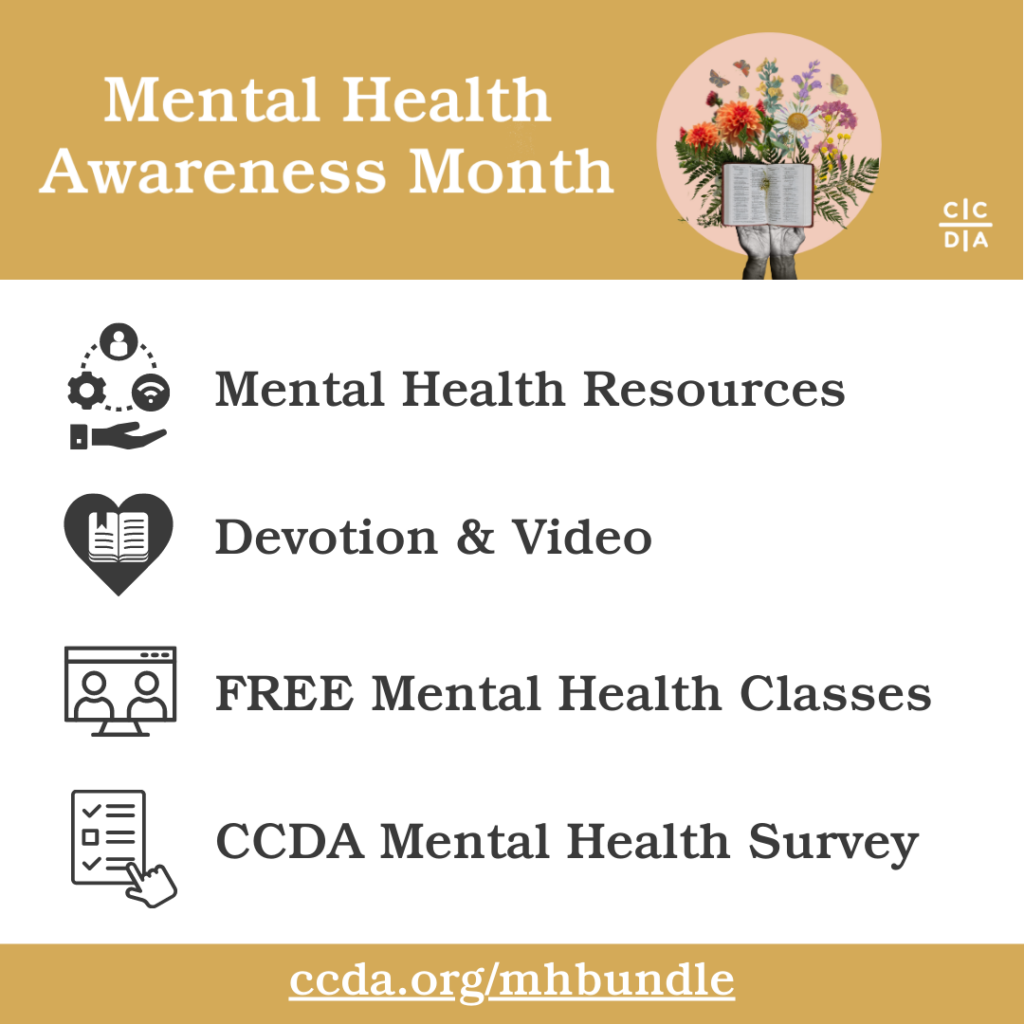 Event Contributors

Creative Writing Contributors

Resources
Crisis Text Line specifically for Spanish-language speakers – you can text HOLA to 741741 or 442-AYUDAME on WhatsApp
AAPI Mental Health Resources
Black Mental Health
Racial & Cultural Trauma Resources
Native American Mental Health Resources
Latinx Mental Health Resources
LGBTQIA+ Mental Health Resources
Self Care
Trauma-Informed Care & Healing Centered Engagement
Trauma-Informed Ministry & Faith-Based Programs
BIPOC Mental Health & Supportive Resources
Child & Youth Mental Health
Grounding Techniques to Help Regulate Your Nervous System
Helpful Social Media Posts
FAQ
How do I register for classes?
Click on the event graphic above to register or visit ccda.org/events. Classes are at lower costs for CCDA Members. If you'd like to become a member, visit ccda.org/membership.
What is included in the Liberation-based Healing & Wellness series?
Four 1.5 hour sessions of teaching and conversational learning on Wednesdays between May 3-24, 2023, from 1-2:30pm EST
Opportunity to engage directly with the speaker and class during each session
Equipping attendees with the tools and evidence based practices to address the specific needs in their own contexts while still sustaining ourselves to prevent burnout
Participants will be able to utilize skills as tools for use in their organizations and communities
Please see individual class descriptions above for more information
What is included in the Mind My Space: A Talk About Mental Health event?
A one hour session of information on mental health awareness within a CCD context including conversational learning and question/answer time on Wednesday May 10 from 7-8pm EST
Opportunity to engage directly with the speakers and participants
Discussion around mental health awareness within a CCD context, education, and discussion with conversational engagement with attendees to learn more about and address specific needs in their own contexts
Attendees will be able to ask questions and share in a confidential space, ask questions about community resources and ministry practices
This class is FREE for members
Who are the events and resources for?
Anyone interested in learning more about, discussing, going deeper in their understanding of mental health and its impact, and expanding their understanding of Christian Community Development philosophy & praxis in relation to mental health.
Other questions?
Contact Mary Beth at [email protected]
More Ways to Engage
Not a member? Join the CCDA Family
Membership has always been a way for us to accomplish our mission and vision. We want you to succeed in your work, so we created a structure that will sustain our work of strengthening individuals and organizations just like you. We are constantly striving to update and scale the resources available to our members so that you have the tools you need to complete the good work to which God has called you.