CCDA Online Institute presents: CCDA Webinars.
Join with the CCDA Community each month in deepening your CCD practice around topics like Soul Care, Non-Profit Management, Gentrification, Fundraising, Social Enterprises, Rural CCDA, and more!
The CCDA Online Institute presents "Shaping 2020: Creating Spiritual Rhythms for Holistic Balance" featuring pastor Justin Fung.  Where is God asking you to go deeper this year? How can you cultivate healthy habits to shape your spiritual, physical, intellectual, relational, emotional, and service areas within your life? Learn how to use the SPIRES plan to create daily, weekly, monthly, quarterly, and even annual rhythms that sustain holistic balance and foster growth. Join Justin Fung along with CCDA's Leadership Development & Training Director Lisa Rodriguez-Watson, to learn more!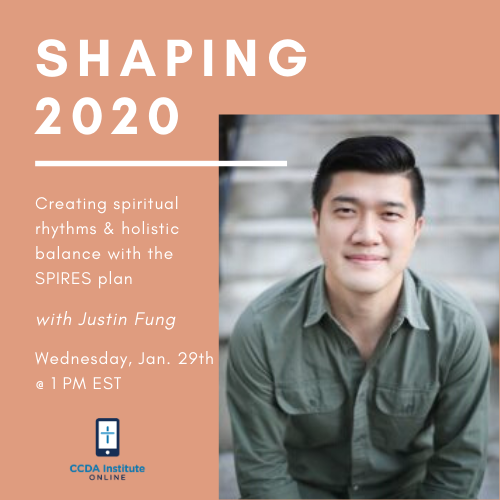 You can take advantage of this resource for FREE as a CCDA Member. Not yet a member? Sign up for as little as $10 a month to watch CCDA webinars at no charge. You don't want to miss out on this amazing community development resource!
---