by Sunny Sue Chang Jonas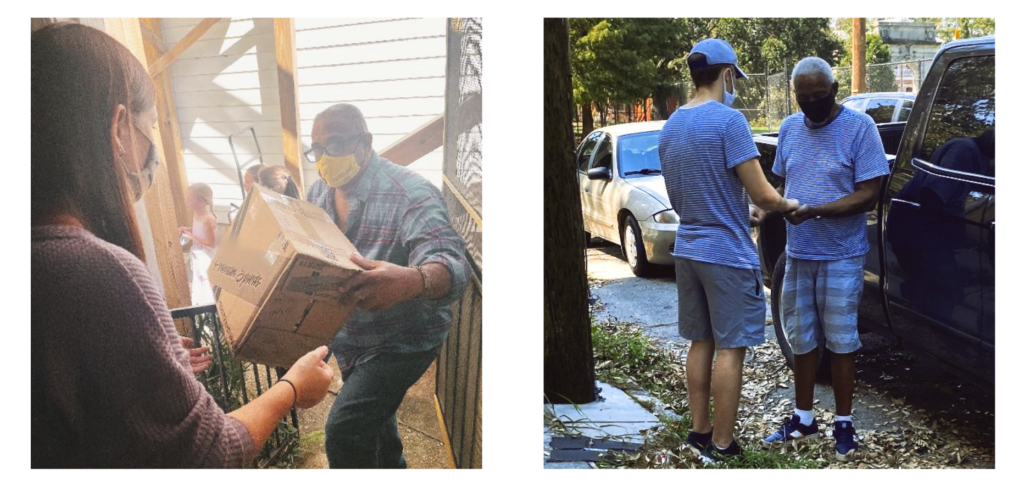 "The arc of the moral universe is long, but it bends toward justice." –Dr. Martin Luther King Jr.
Positive change can feel so arduous and slow. In a place like New Orleans, a city that finally felt like infrastructures and ecosystems were back on track after Hurricane Katrina in 2005, is now again ravaged by Hurricane Ida, and during a worldwide pandemic, no less.
Sarah Barnett, Restoration Journeys Director/Development Director for The RICC, and Michael Hitch, President and Founding Executive Director of The RICC, shared about some of the work their staff and organization are doing to support the communities of New Orleans, post-Hurricane Ida.
The Restoration Initiative for Culture and Community (The RICC) was founded in 2012 on the belief that restoration of communities depends on the reconciliation of relationships. Pursuing and envisioning holistically thriving communities in a more just and caring world, work themselves out in pragmatic, specific ways. The double feedback loop of reciprocal communication, though "inefficient" and "messy," allows for requests for particular needs, rather than general acts of charity that can feel condescending, or unhelpful towards the dignity and holistic health of the people they seek to serve. Sarah, "Hitch," and their staff hope to create " environments and solutions that expand possibilities, cultivate character, and restore relationships of individuals, groups, and families."
Staff at the RICC worked to get supplies, resources, and volunteer assistance to communities in New Orleans and communities in the surrounding areas. This has included donation drives and distribution, as well as sending out volunteers to assist people in their homes by tarping roofs and removing debris and sheetrock. What was initially projected as over a month of lack of power, ended up being 10-12 days—a combination of prayer and local wranglings of city-entrepreneurial politics. They intentionally sought out feedback from the community to shift specific resources people have been sending to other areas where folks continue to struggle for basic resources.
The Restoration Journeys program, part of The RICC, is actually designed to receive and send out short-term mission teams; these groups now are targeted to receive and place teams around the area to do disaster relief work. Although the current teams deal with acute issues particular to Hurricane Ida, normally the teams do similar infrastructure and practical work serving these same communities who have an undercurrent of multi-generational poverty that affects their daily and ongoing well-being.
The Restoration Initiative was founded on the three R's of CCDA and the components of CCD. Efforts to include relocation involve having staff who are proximate and able to serve long-term towards a longer arc of justice, restoration, and relationships. In contrast to what Paolo Friere refers to as a "banking model" of making transactional "deposits" between those of privilege/power "down to" those with "less than," RICC seeks to live life along with those in NOLA in long term relationships. Related to their understanding of reconciliation, they seek out overlapping circles of unity: that Christ calls us to first be reconciled to him, then to others, and also within ourselves. Staff is charged with efforts towards "self-care" and preventative measures against compassion fatigue and burnout. In addition, as an intentionally and explicitly anti-racist organization, they seek to understand compounding trauma, including racial trauma. Redistribution is also important in the pursuits of social enterprise. Their five Missional Priorities include Marketplace Reconciliation, which pragmatically focuses on business and entrepreneurial efforts to help turn the tide for those who are coming out of incarceration and homelessness. Again, they readily and regularly utilize and honor the work of short-term missions groups and teams, but know that ultimately, the principle of relocation involves having staff who are proximate and able to serve long-term towards a longer arc of justice, restoration, and relationships.
"Never doubt that a small group of thoughtful, committed citizens can change the world; indeed, it's the only thing that ever has." –Margaret Mead
There can and may very well be another hurricane in New Orleans in the future. Climate change and historical precedent may lean towards its recurrence, but with prayer and valiant, ongoing efforts from organizations like Restoration Initiative, these thoughtful, intentional citizens can and do change their beloved city.
Website: thericc.org
Facebook and Instagram: @thericc
Restoration Journeys: