It had already been a long day at work in Akron, Ohio, when part of our staff gathered together in the back room of the Front Porch building for a strategic planning meeting. Though our days had all looked different, all of us had been embodying our mission at South Street Ministries: "Unlikely partners taking shared risks to renew our community for Christ's sake."
I was tasked with leading our team through a strategic planning session for the Front Porch Café. The Front Porch building has seen many changes in the last eight years. It began in the 1920s as a Croatian-American club with a dance floor and a bar and a second floor that housed immigrants. Over time, the neighborhood saw a decrease in population and a change in demographics, and the building—nestled among a gas station, a Family Dollar, a plasma center, an array of road construction, and the county jail—arrived in the hands of our ministry years later with many problems and not a lot of potential. It was here that the Front Porch was born.
South Street has always been a place of story. The practice of remembering comes quite naturally to our organizational culture and is a part of who we are. As a rag-tag crew of unlikely partners, how we came to call one another family is important. We sat in the back room and remembered the days when the Café was first opened, and our chef made food on a grill outside because it was the only equipment we had. We laughed about the days of the aquaponics system—the loud fish tanks, pipes, and plants right in the middle of a restaurant. We reflected on our Café patrons—people walking down the street, Akron business owners, suburban church partners, people in re-entry and recovery, college students, neighbors, people seeking employment—and how we want this Café to be a "third space" where people can meet and fellowship. We marveled at God's provision, which has allowed us to transform this building with many problems into a fully functioning community Café with our newest additions—a clinic for the uninsured in the back room, and a newly-completed second floor whose story has yet to be written. It was at this point in the meeting that the room became quiet.
With recently completed spaces and organizational growth, we have found ourselves in a bit of a Front Porch Café identity crisis. "Who are we? What are we about? Why are we here?" It's clear that we need a phrase of grounding for the Front Porch Café as the Front Porch building traffic increases. We try "The Front Porch Café: Food for the heart and food for the soul," "Coffee, community, connection," "All are welcome" among so many others. None of them quite fit who we are in our South Street DNA, and there is a gnawing sense in my spirit that we are missing God's heart in all of this. So much has become bigger than us, and mission drift is a real temptation to step out of the margins and into profit. I began to sense the tension and discouragement among our staff.
From the heavy silence, one of our staff offered his thoughts: "Well, our grounding motto could be what I always tell one of our regular patrons as she comes in off the streets—'Yes, we have bathrooms.'"
The burst of loud laughter all at once in the room confirms in each of our spirits that this is it. "Yes, we have bathrooms." It is an answer we repeat often as people walk in from off of Grant Street from people who have just been released from jail, from friends experiencing homelessness, and others waiting at the bus stop. "The Front Porch Café: Yes, we have bathrooms"—no other place around here does for the passerby. It is a phrase that centers the experiences of our most marginalized neighbors in South Akron and Summit Lake—the people God gave us a heart for in the first place.
I never expected a strategic planning meeting to be a space of healing and spiritual recalibration for us as CCDA practitioners and ministers, but it was. We remembered who we are as a ministry and who want to continue to be. Even as we grow organizationally and as building traffic increases, our commitment will still lie, first and foremost, yoked to the experiences of our neighbors. Our love has not changed, even as much around us has. Our posture of advocacy has not changed, even as our building partners have. Our ministry is still one that cries and fights in solidarity with the disinherited and marginalized, because the love of Christ compels us to.
And even as it may get hard with transition and change and the threat of mission drift, still we will say:
"Yes, we have bathrooms."
Friend, neighbor—you are welcome here.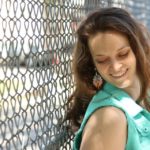 Amber Cullen is the Director of Communications and Advocacy at South Street Ministries (a CCDA member) in Akron, Ohio. She is a storyteller who paints with words to expand people's theological imaginations towards an understanding that we can care for one another better.