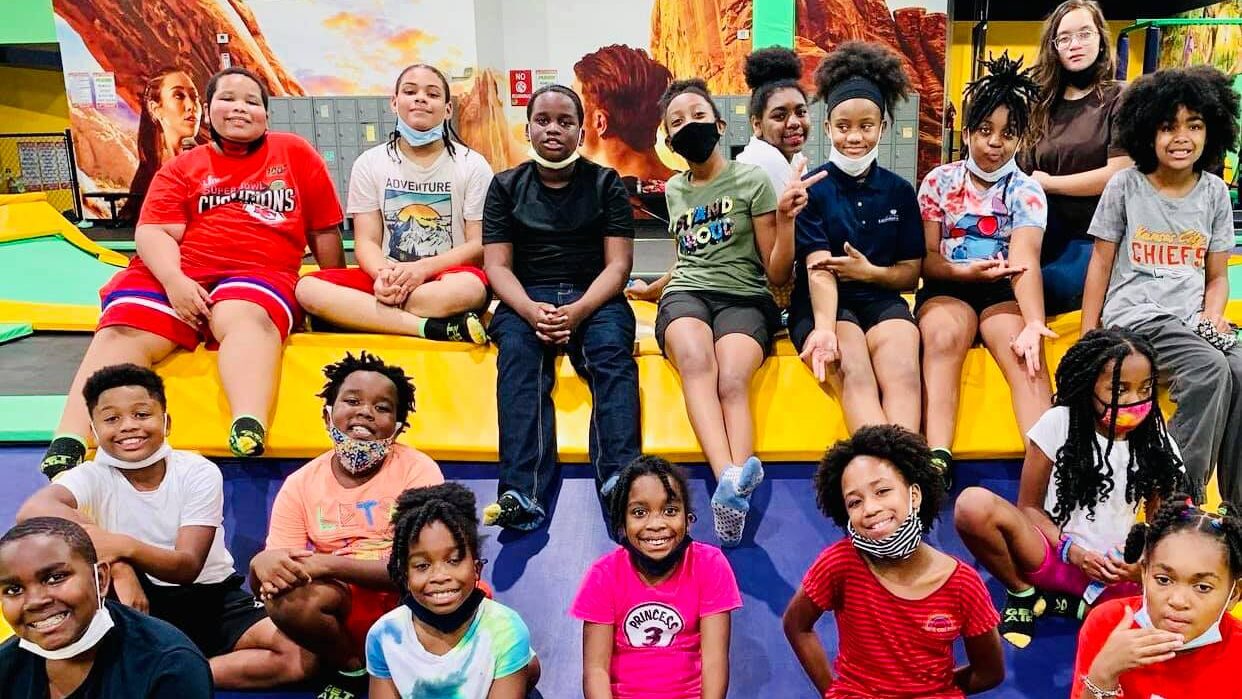 by Alma Lizette Cárdenas-Rodríguez
Did you know that besides being the host city for #ccdaReimagine and the home to the Hope Center KC, Kansas City is known as "The City of Fountains?" This struck me in a conversation with Rocky Hodge, the Director of Operations at Hope KC. He shared, "There is a map of the city that will guide you to the 200+ fountains in the city." Pre-pandemic, a quick getaway from the rhythms of the day-to-day work, was a fountain hidden behind a large building which I happened to find once through a back street as a shortcut to one of my favorite lunch spots. As much as I was too overwhelmed to stop and acknowledge it on some days, it always had this magnetic power to get my attention and accept its invitation to stop and sit by it through the water's soothing sounds. On some days the sound of the water invited me to release my tears. On others, I found joy in observing how birds, squirrels, or kids running by would engage in playfulness with the water of the fountain, which was relieving to a weary soul standing by.
As I interviewed Rocky, I realized that the Hope Center KC is another fountain that you will not find on the map but has a well within! Their vision for developing healthy communities where the vulnerable can have hope and flourish can be heard. On any weekday of their academic school year, the sound of children and youth running, shouting, and playing, might just invite you to stop, smile, hope, and dream as it did for me.
Introduce and tell us about yourself.
My name is Rocky Hodge and I am originally from Oklahoma City, Oklahoma, where I was born and raised. My parents had four sons, I'm the youngest of the tribe, and probably the favorite of the tribe as well! I grew up in the church and our family has a long history with the church. My grandparents (my mother's parents), were founding pastors of a church, and my grandfather's hands actually built a church!
My story, like most young people when they first get baptized, was that I came to the Lord at an early age after getting baptized. But I will say that my relationship with the Lord truly blossomed in my early teen years. That was when I took ownership of my own faith and really began to discover what this relationship with the Lord was all about.
What brought you or connected you to Hope Center KC?
The Executive Director of Hope Center KC, Marvin Daniels, and his wife Angie Dalliances, who is our Senior Program Manager, have known me since I was in high school. I met them as a camper where they were part of working at Kids Across America. I was there with them for a period of time as a camper before they invited me to be on staff with them for 8 or 9 summers. When Pastor Marvin accepted the role to come to the Hope Center, he also invited me to join him on that journey, and so he transitioned here officially in May of 2014 and I transitioned in August of 2014. I was the Director of Youth Programs for about 6 years and transitioned into my current role as the Director of Operations 2 years ago.
Hope Center has been around for about 26 years. Tell us the story about the who, what, where, and when sparked Hope Center KC into existence?
Chris Jaylee, our founder, had also worked at Kids Across America, which is a Christian sports camp that focuses on serving youth from urban communities from all over. He had a heart and a passion for what was taking place at camp and wanted it to become an everyday reality. It all began on a front porch through bible study gatherings with young men in the neighborhood. Over time, they grew out of that space to the basement of Jamison Memorial Temple, which to this day is one of our partners whose relationship with us has only continued to grow and blossom.
Eventually, the students had an opportunity to purchase the campus that we're currently sitting on. At the time our founder Chris asked the students, what do you guys want to call this space? The young people responded by naming it, the Hope Center. That has been powerful within itself, to hear that the young people would envision this space to be a place of hope for them. That little front porch bible study has transformed into youth development, youth community outreach, and community development.
What have been some of the biggest joys or wins for Hope Center KC and the community?
One of the wins for the Hope Center has been our sustainability. We receive zero federal funds. Of the funds we receive, 5% are from grants, and 5% are from corporations. We receive 90% from an individual donor base. To see how God has sustained us to continue serving in this community, for our families, youth, and neighbors and have Hope Center be a safe place for any person who steps into this campus, has been a very important reminder of why God has placed us here.
Another win is when we see young people come on our campus to the community basketball court to be themselves with no one policing over them, and to see the fact that they'll hold each other accountable in picking up trash, taking care of the campus, and making sure that they're being respectful and following the rules has also been a joy for us.
Lastly, to see a generation of Hope Center KC alumni bring their children to our programs because of what they experienced when they were kids coming to the Hope Center has been huge. We are excited and take great joy and pride that they still believe in the vision and mission, and that God is still doing work here at the Hope Center.
What have been some of the biggest lessons?
I would say the biggest lesson we've learned most recently in the midst of this pandemic is that our families still need us. This season was a great reminder to continue to serve our families even when it looked different from how we have traditionally served. It pushed us to be innovative, resourceful, and to stay connected with our kids every week even if it has been through zoom. We got to watch our youth team become super creative in how they served our families in the midst of this pandemic. Even via Zoom, their creativity to engage them, keep them engaged, and aboard with everything that we have going on was really great.
Without thinking of finances, capacity, challenges, hindrances, etc, what is Hope Center KC with the community dreaming for the next 3, 5, or 10 years?
We envision a lot! One plan includes the renovation of our church facility so that it can become a community event center. There is not an event center on this side of this area of Kansas City where our community can gather for celebrations or workshops. Another plan is that we are moving forward with a project for quality, low-income housing, and affordable housing. As Marvin Daniels would say, we desire to see our families flourish. Lastly, we desire to see our families own homes! We currently own close to 30 lots here in our immediate neighborhood. Our goal is to see those lots developed into mixed housing. Some would be single-family homes, others would be multi-family homes. The hope is that it will provide the opportunity for families to own homes.
Some of us will be visiting Kansas City in a few weeks, and if we are able, what are some of the must-see spaces where we can get a glimpse, taste, or smell of the beauty of your community?
That is a big question because there is so much to see here in Kansas City. We are known for the city of fountains, and there is a map that you can pick up to guide you through the 200+ fountains in the city. We also have some great BBQ and taco joints! Nelson Atkins Museum of Art, Jazz Negro Baseball League Museum, among many other things. There is definitely something for everyone, you won't leave disappointed! We are looking forward to having you all!
Hope Center KC will also be one of the go & sees this year at Conference – so you can have the opportunity to see this fountain in real life! Stay updated on our CCDA Conference Page.