Navigate this webpage:
Introduction to LIS 2023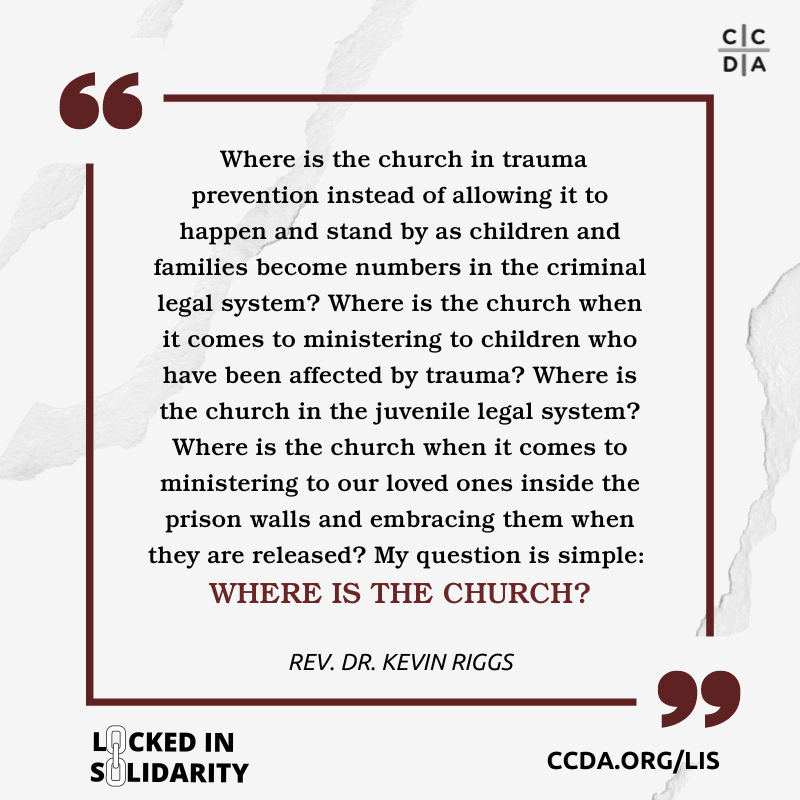 It's that time of year again! Locked in Solidarity, CCDA's awareness & action week on mass incarceration, is February 5-13, 2023. Mark your calendars and rally your community for this important annual focus. We were able to gather with a contingent of our members who helpfully informed us of what's happening on the ground and what we should highlight.
The theme this year is "Addressing the mental health and trauma from juveniles through reentry." This theme was based on input from CCDA members who are working in the incarceration space.
We want to equip you with resources, templates, and opportunities to connect, to help you raise awareness in your community! So join us the second week of February to learn, love, and advocate for our loved ones affected by incarceration.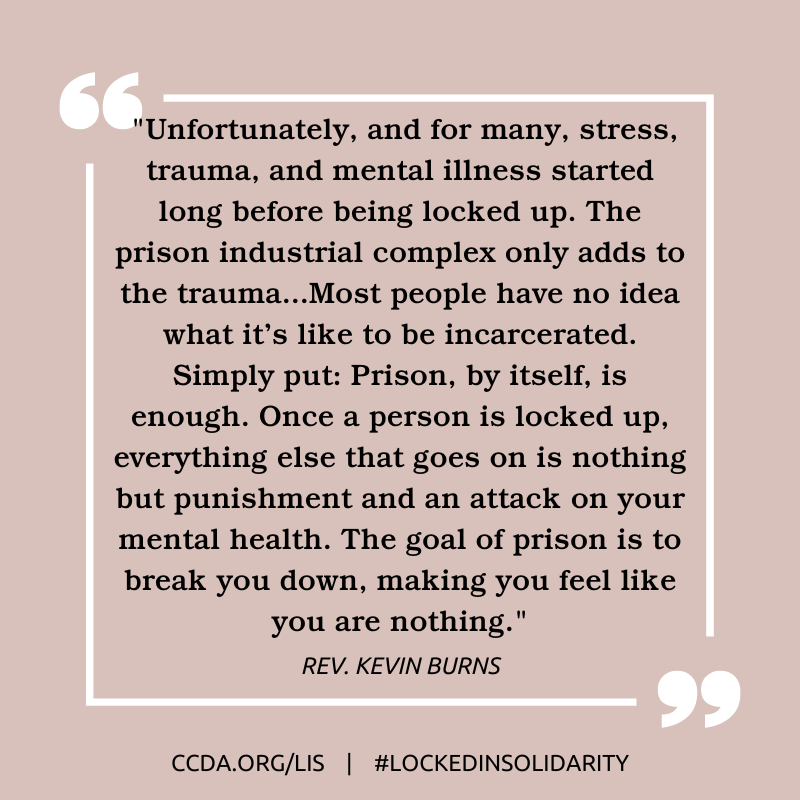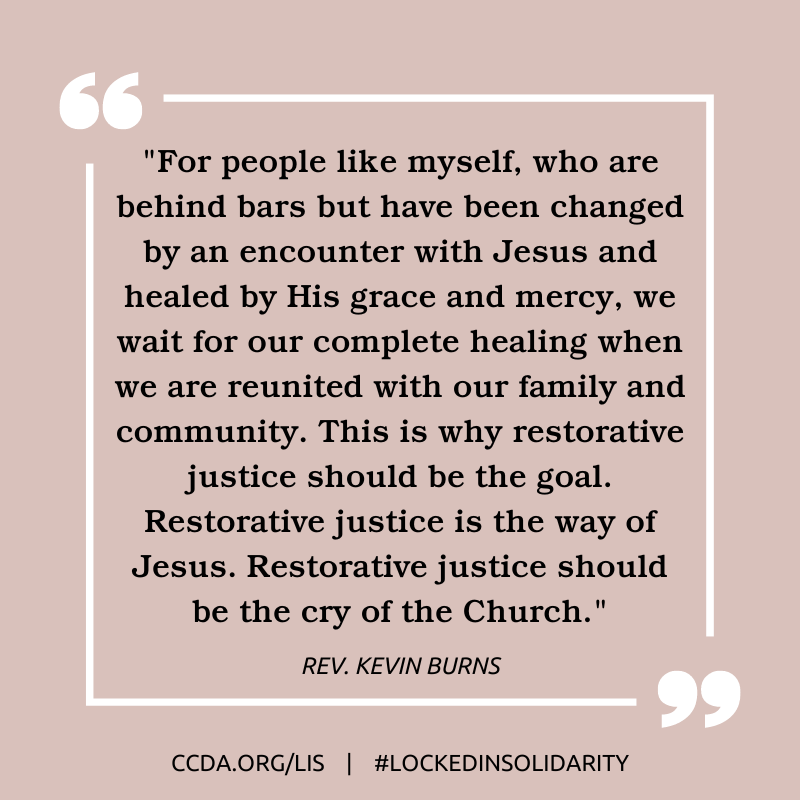 Excerpt of Sermon on Demoniac by Rev. Kevin Burns
Rev. Kevin Burns is a Chaplain on Tennessee's Death Row.
"Everything about prison is traumatic. Nothing about being behind bars is easy. Every day is a challenge to stay mentally and spiritually strong. Maintaining physical health in prison is difficult but maintaining mental and spiritual health is even more difficult. In prison you are deprived of everything. Your name is replaced by a number. Every moment of every day is scheduled by someone else. There are no liberties. There are only earned privileges that can be stripped from you without cause and without warning. Being arrested is traumatic. Going through a criminal trial is traumatic. Hearing the words, "GUILTY!" is traumatic.
Unfortunately, and for many, stress, trauma, and mental illness started long before being locked up. The prison industrial complex only adds to the trauma. I know many will read these words and say, "That's what prison is for. You are there to be punished. Don't do the crime if you can't do the time." Most people have no idea what it's like to be incarcerated. Simply put: Prison, by itself, is enough. Once a person is locked up, everything else that goes on is nothing but punishment and an attack on your mental health. The goal of prison is to break you down, making you feel like you are nothing…
…At one time he [the demoniac] was tormented, chained, naked, and suicidal. But then he met Jesus and the next moment he was at peace, freed, clothed, and full of life. Mentally, he went from chaos and oppression to calmness and liberation. Spiritually, he went from despair and despondency to healing and wholeness. Jesus reached him in his prison of death and set him free! Jesus fulfilled His word where He said He came to "proclaim freedom for the prisoners" (Luke 4:18).
Here is the big lesson behind this story…" Read the rest of the sermon, including a call to the church by Rev. Dr. Kevin Riggs, by downloading the LIS bundle below.
2023 LIS Bundle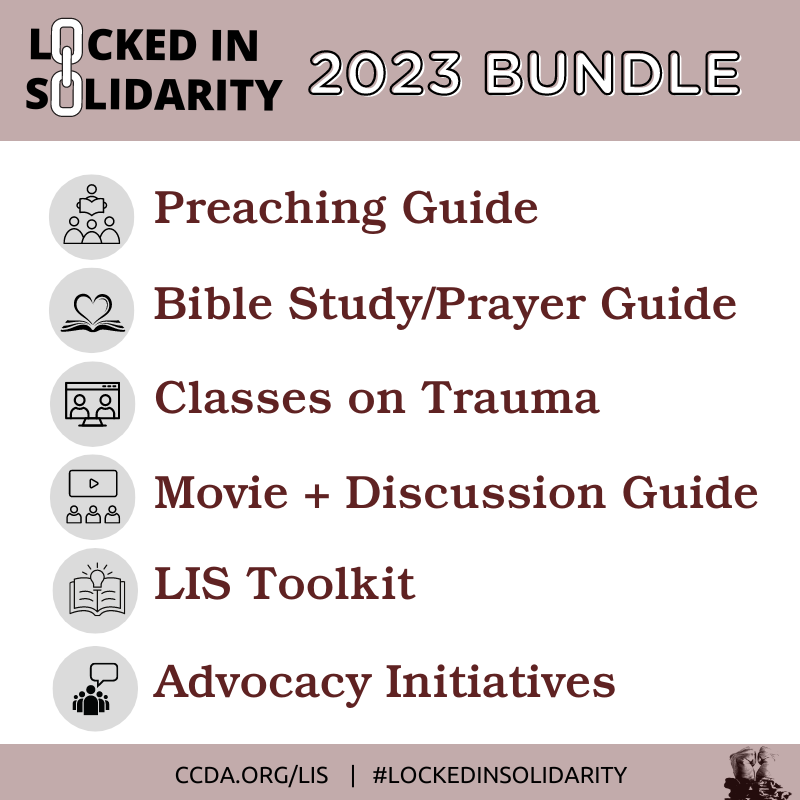 For 2023, we have a bundle of resources here for you to easily learn, love, and advocate for those affected by incarceration in your community. Download it below to receive all these resources, as well as the entire LIS sermon, for free!
Upcoming Events
Coaching Opportunities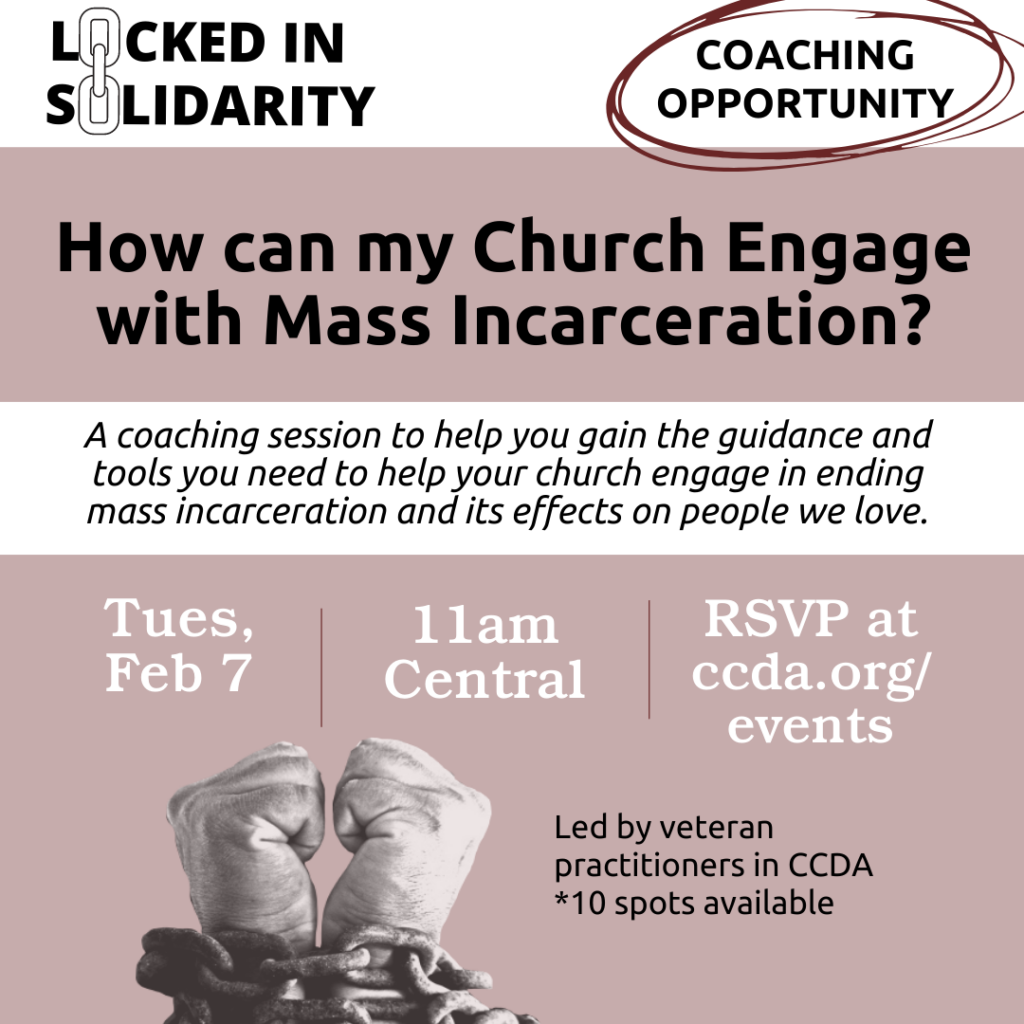 A coaching session to help you gain the guidance and tools you need to help your church engage in ending mass incarceration and its effects on people we love. RSVP here.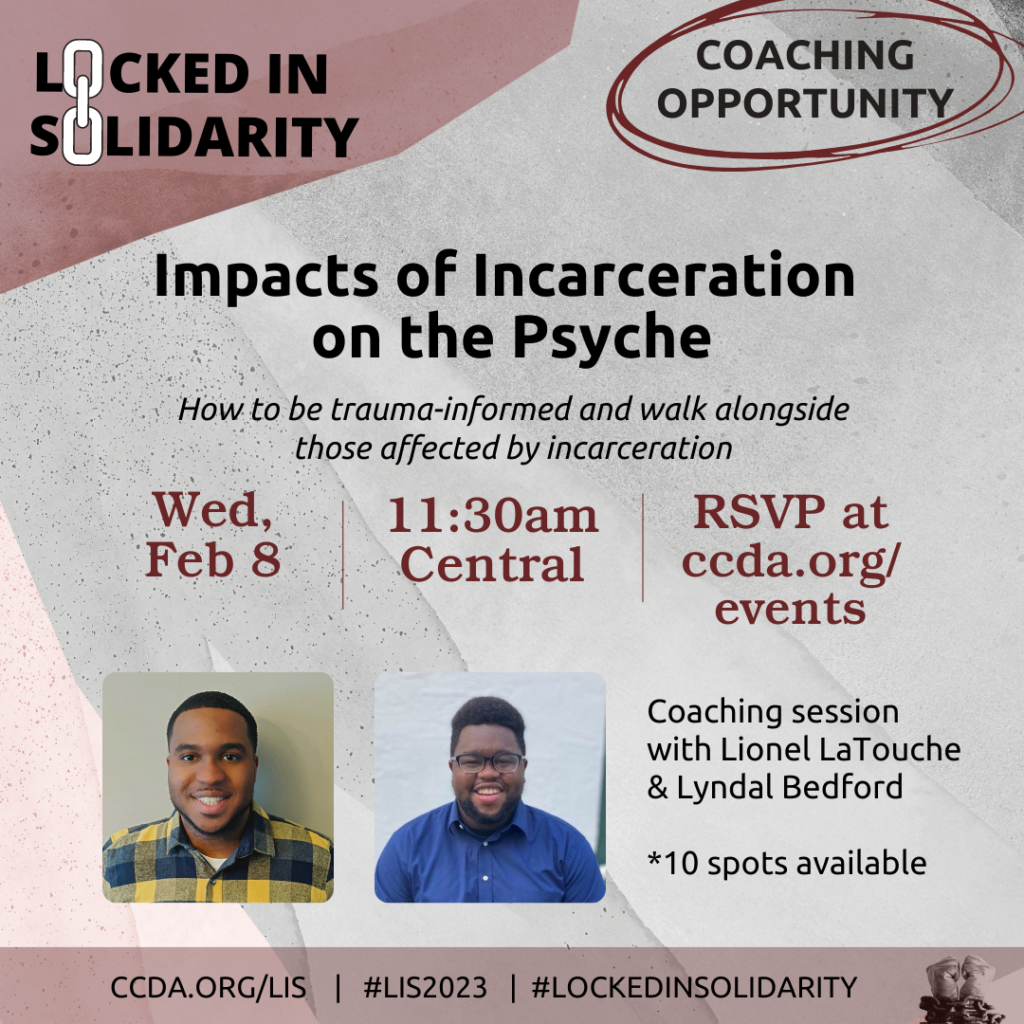 A coaching session for practitioners working alongside those who are affected by incarceration. This session will explain the neurobiology of trauma and how incarceration impacts the psyche. Come expecting to learn, share your stories, ask questions, and receive practical tools. This session will enhance your community development work and help you learn, love, and advocate for those affected by incarceration.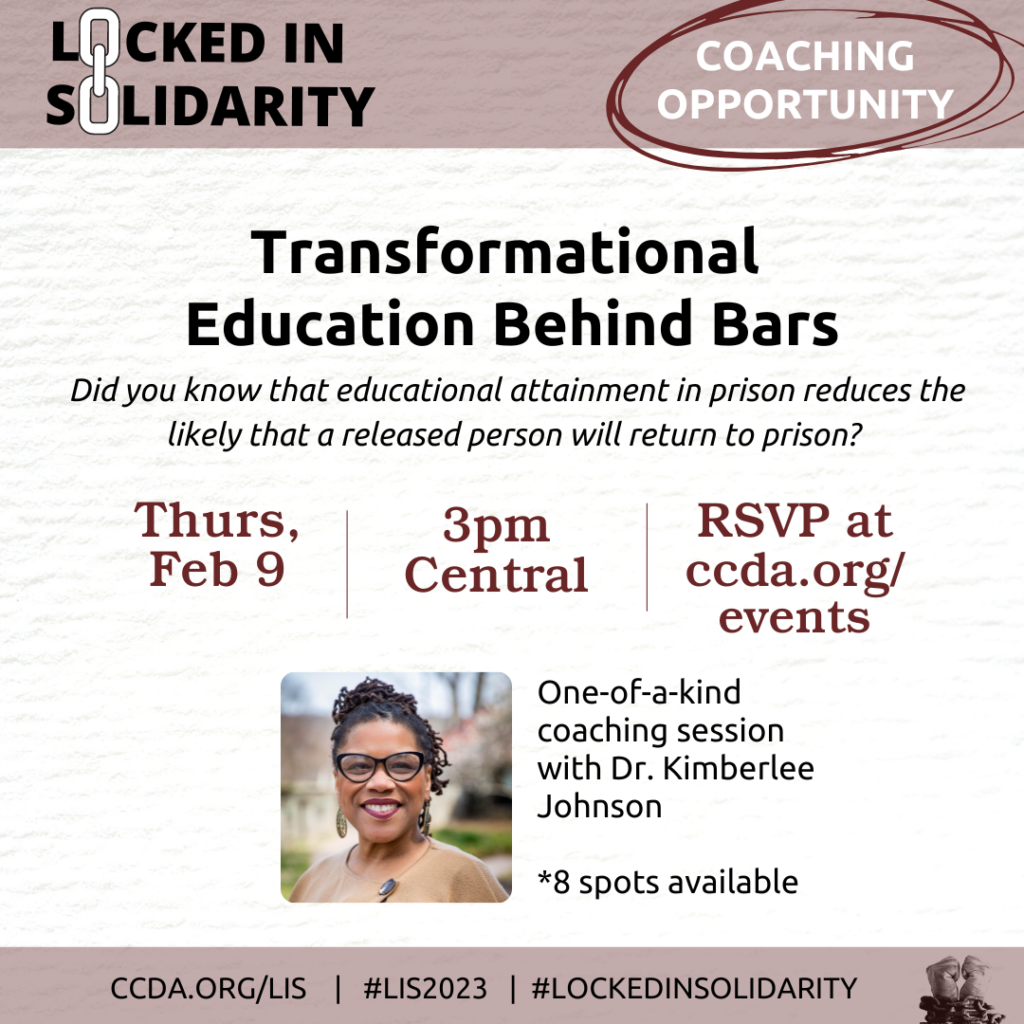 Did you know that educational attainment in prison reduces the likely that a released person will return to prison? Find out other ways of offering life changing ministry in the correctional setting. ($20 members, $50 non-members, RSVP here)
Learning & Connection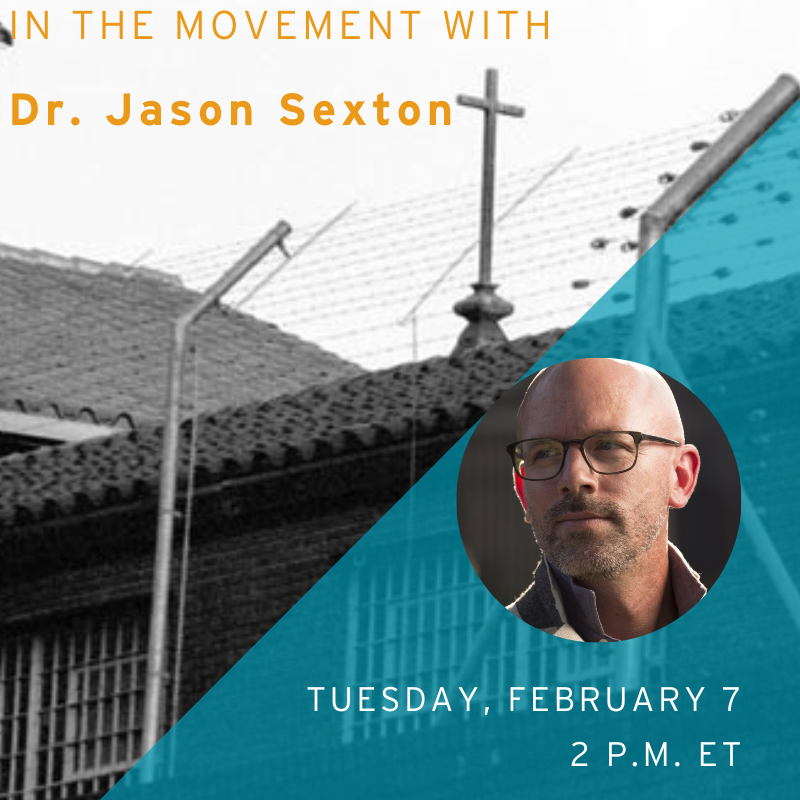 We're partnering with EJUSA & their In the Movement Webinar for this event! We'll talk with UCLA professor Dr. Jason Sexton, a social-theorist, cultural historian, and formerly-incarcerated theologian. We'll discuss the Christian church's historical relationship with prisons, the unique ways evangelicalism built and sustains the prison system, and specific ways Christians can work toward responding to violence in alternative ways beyond incarceration. (Free) RSVP Here.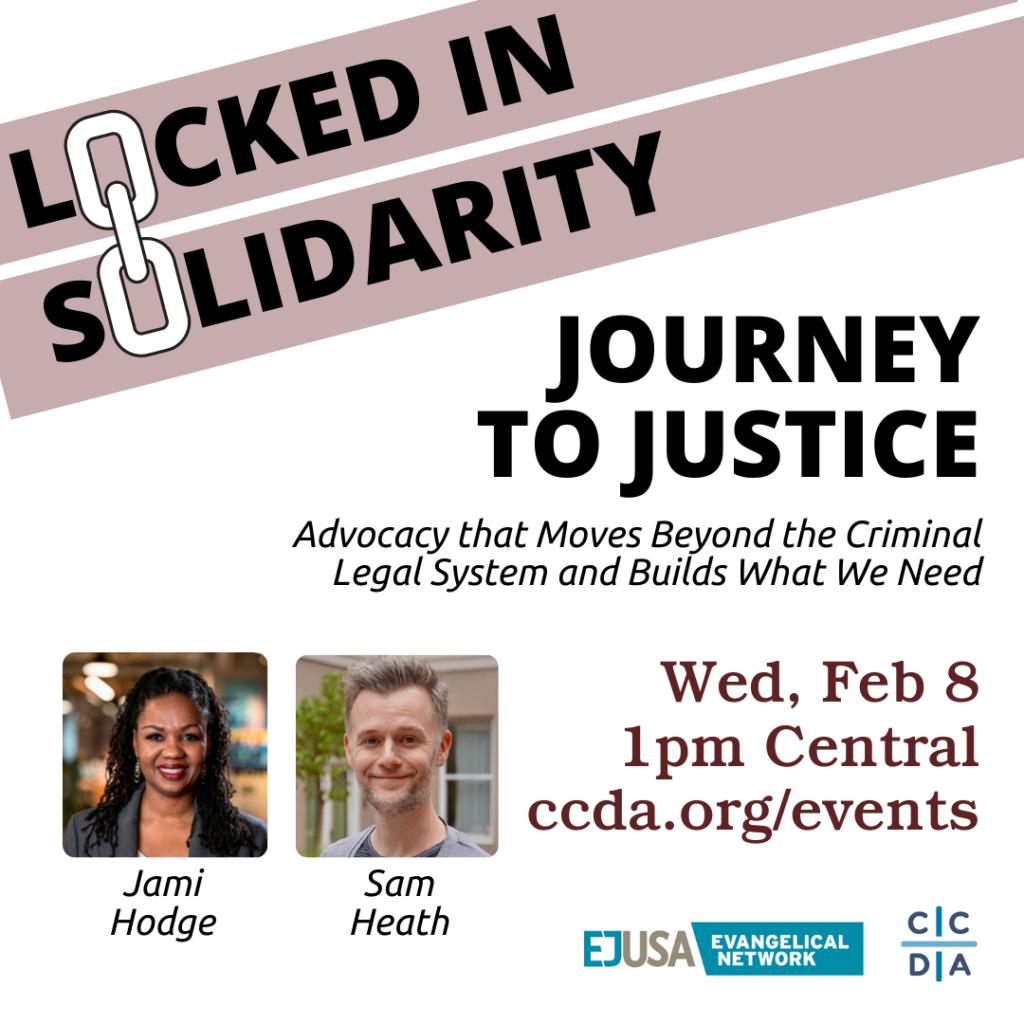 How can the Church work for the flourishing of all society? Often, Christians care deeply for those within our church and see those outside its walls as "causes" or "issues" rather than image bearers with equal dignity and need. Our criminal legal system has replaced the Church as the first and longest responder to violence. How can the Church assume its rightful place in caring for the most marginalized, lock arms with our neighbors to learn from AND serve them, and build a culture where our response to violence and harm centers love rather than punishment, police, or prisons? Join us for a conversation designed to inspire and equip God's people to move from understanding to engagement, from passivity to action, from listlessness to love. RSVP here.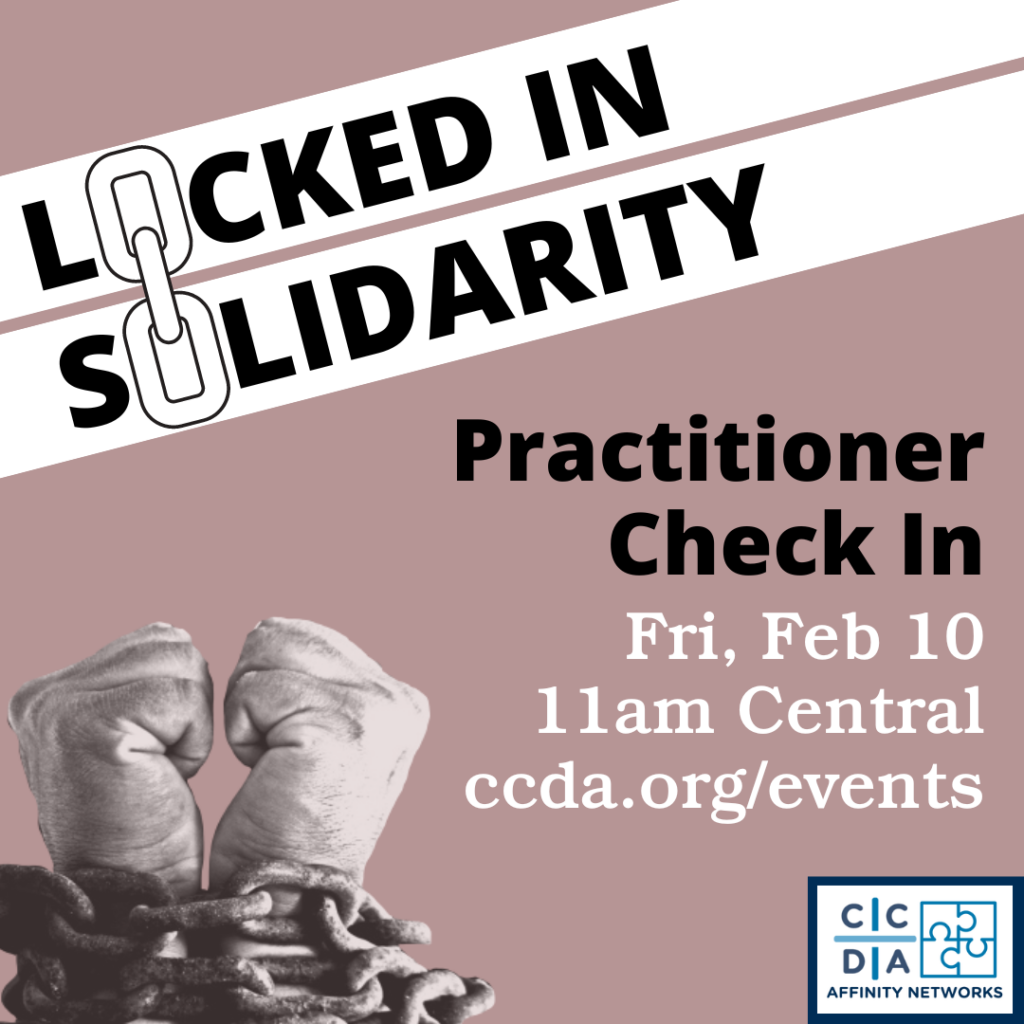 If you learn, love, or advocate alongside our loved ones affected by incarceration, join us for a time of connection and prayer! RSVP here.
Raise Awareness in your Community!
We'd love to raise our collective voice and share any events you do (Bible studies, prayer meetings, movie discussions, sermons, advocacy, etc) with the association. This also helps us to direct people who might want to participate in your event. If you are doing an event, please let us know here, so we can publicize it nationally!