by Vola Ranaivoson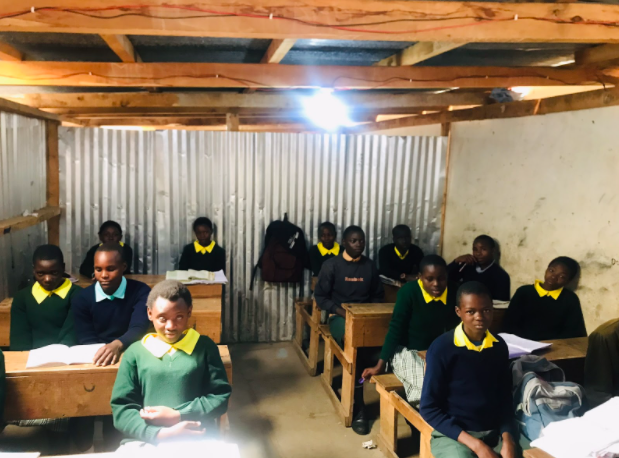 In January of this year, I had the opportunity to visit with Jared and Mary Onserio. They currently live and minister with CCDAfrica in the Kibera Slums of Kenya.
It was a bright and sunny day as my Boda Boda (motorcycle taxi) zoomed through the streets of Kibera as I clung to the driver. The landscape opened up and I saw the view ahead that would give me a small idea of what Kibera would be like. I looked out and saw tin roofs lined 12ft x 12ft, all right next to each other. From above, it looked peaceful. In reality, underneath those tin roofs was one of the biggest slums in Africa and in the world. Before visiting with Jared, all that I had known and seen about Kibera was that it was a place of squalor, disease, danger, poverty, and desperation. And though you do find those things here, when we walked the streets of Kibera, there was more to the story than just that. Restaurants, fruit and vegetable stall stalls, and cell phone shops lined the streets and were bustling with business. Students in their school uniform, happily chatting with their friends as they walk home from school, Boda boda drivers lined up on the streets waiting to be hired, a group of men playing dominoes on the side laughing and talking loudly along with friends.
It is in this vibrant, bustling, and densely populated place that Jared and Mary Onserio call home. They started GoodLife Educational Centre through CCDAfrica. The mission of GoodLife is to establish schools that act as models and support for under-resourced schools in the area. They do so through training, employing, and developing teachers and staff to be disciple-makers and recovery leaders.
In our conversation, Jared shared how he took the CCDA principles and applied them to his context. He also vulnerably shared the challenges of pursuing wholeness in the midst of the overwhelming nature of his work.
—
Introduce and tell us about yourself.
My name is Jared Onserio. I come from Kisii, a major urban center in South-Western Kenya next to Lake Victoria. I grew up with my stepdad, and we're eight – 7 boys and only one girl. We didn't have much, we were very poor. I didn't get shoes until I went to high school, where I went to a boarding school. When I finished high school, I didn't want to go back to poverty. So I worked so hard to get my degree as a Maths Teacher. For many years, I have taught Maths in different parts of Kenya, before being called into ministry. So I came to Nairobi in 2000 in June.
I am married to my beautiful wife Mary, and we have two boys. They have been a blessing to me and this ministry as they support and help out.
Can you tell us how CCDA Africa and GoodLife Educational Centre came into existence?
My family and I were called to move to Kibera in 2010, and at that time, Coach invited and sponsored me so that I was able to attend the CCDA Conference in Chicago, and that's where I learned about Christian Community Development. I was excited to bring these principles and apply them to my context here in Kibera…In doing a needs assessment of the community and talking with others, we found that there were students, who still couldn't read, do simple maths, or write their names. One thing that became clear is that if you want to change Kibera, you have to change the young people…
In thinking about how to keep retention of students, we started boarding students here at the school last year…Being able to have a safe place to sleep, a warm meal every day so they can focus on their education, and deal with their addiction. We have boys who are currently clean from their addictions and we thank God for that. We are showing them that the future is good and God provides for their needs.
From our 2020 assessment needs, we realized that kids will be good if the parents are good and that we needed to address the needs of the family holistically. We wanted to help parents deal with their own trauma and needs in order to improve the outcomes for the whole family and the community because the transformation will not come only from the students. So another aspect of our ministry is the Celebrate Recovery group. Through the melding of Celebrate Recovery with discipleship, we seek to produce authentic disciples and disciple-makers. It is a space where we are equipping people to share testimonies without shame and guilt. We also provide a safe place to share their hurts, hang-ups, and habits.
One story of such a thing happening is at the Church of Bethlehem at mashimoni Kibera slums (4 miles from our ministry center). A Celebrate Recovery group was started in April of 2021…After the class, two women requested Sophy, one of our teachers, to meet with them separately the next day privately. When Sophy met them the next day, one woman shared that she had planned to commit suicide and murder her children using poison that week because her husband left the family and got married to another woman and life was horrible for her children. The second woman shared how she gets children from a different man who isn't her husband because her husband is a witch and didn't want to have children who are witches. BUT JESUS had different plans of giving them hope and healing through Celebrate Recovery.
What are some of the lessons and challenges? And how do you care for your well-being in the midst of those challenges?
The biggest challenge which has affected my family mostly is the funding. When Covid hit we were not able to keep the staff because we didn't have funding. So, to make sure that the school could keep running, my family and I (my wife and two boys and I) do everything from cooking the meals for the students, administration work, watchmen, etc. We are doing so much, almost the work of 10 staff. Providing food has been a struggle as well as funding is low, and we are making do with what we have now, and trusting that God will provide.
Another challenge is that as we are growing. We are in need of a bigger place that will accommodate the students that are coming, that will allow us to do just that and we are currently looking for a good facility that will allow us to have a good boarding school, discipleship, recovery church, and leadership training. So there are a lot of challenges.
You know it's interesting you ask me about how I am caring for my wellbeing in the midst of the challenges, and I feel like God is speaking to me through your question. It's a good question. Last Wednesday when I went to the doctor for a general health check. The first thing I was told was that my blood pressure is 171/90, When I called my wife to tell her, she told me, all along I've been telling you, the pressures of ministry have been too heavy on you with no funding and carrying around a lot of weight/roles. If this continues, you are going to die very soon. There's a lot of stress and trauma. Ministry challenges have greatly impacted me and my family. Things have been really hard right now so I do think that it's important to be taking care of your well-being and being whole, but to be honest I don't really know what that would look like in the here and now when I have so much going on.
What are some of the joys or wins?
When we see young people receiving Jesus through recovery, it has really given us the energy to keep going even when funds are running low, because we know God is a faithful God.
Another joy is also seeing the growth of the kids in learning, who when they first came to us were unable to read, write and spell their own names. Now they are able to do those things. We have students in high school, who for the past couple of years haven't gone to school and missed so much that they are waking up at 3 am every morning to go over their studies. That's a joy because we're changing the lives of these students.
So the joy of connections that we have added to the school, the joy of being able to share and the joy of having people wanting to be trained in Celebrate Recovery throughout the country.
It is a joy to be able to provide space here where parents feel free to share. They have never had space to share their pains. Now they have space where they can be listened to…They know, nobody else will go out with those secrets. They get healing. They get acceptance, they get love. Those are things that bring joy to my heart.
—
It's easy to take in the challenges Kibera residents face every day and feel overwhelmed. Walking the classrooms of Goodlife educational center, and hearing Jared's story was a gift to me in that it showed me the physical, emotional, mental and spiritual spaces we can create to pursue shalom in our communities.  
So many of us can resonate with Jared's story. We see the overwhelming needs of our communities. We experience deep pain from the losses all around us. We hold on with dear life to the joys we witness. As we continue to press on towards seeking shalom and wholeness in our communities, I would like us to consider what it looks like to pursue wholeness in the midst of suffering? How can we call each other in community to that wholeness? How can we be a part of creating physical, emotional, mental & spiritual spaces of shalom in our communities?