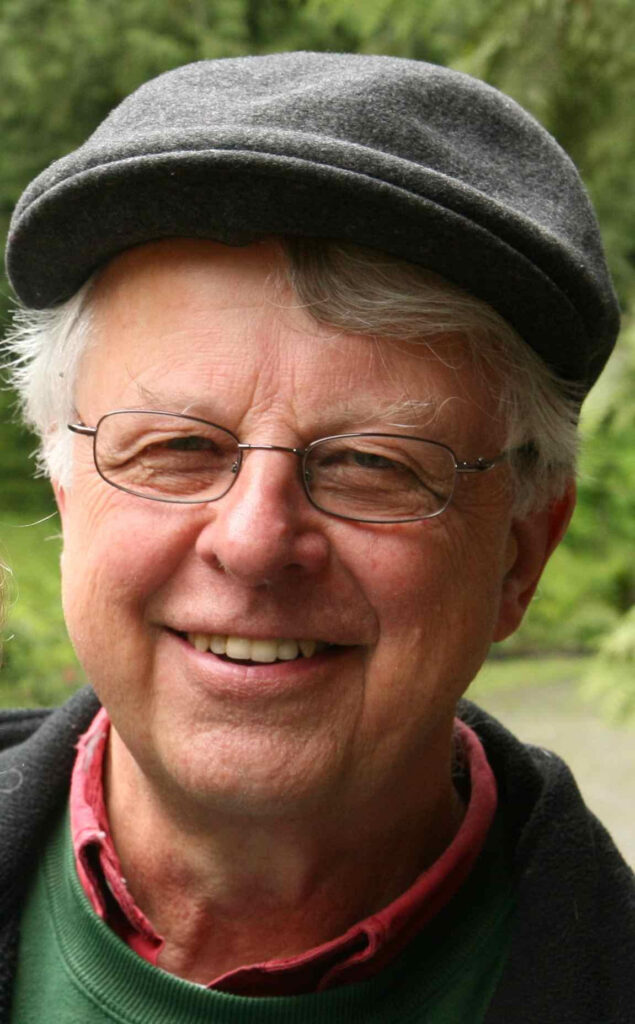 Raymond (Ray) Bakke was born to Tollef and Ruth Bakke in Bellingham, WA, but within a month moved to Cordova and then Kodiak, Alaska before returning to Bellingham in 1944. The family moved to the farming and logging community of Saxon in 1946 and Ray attended Acme Elementary and Mt. Baker High School, graduating in 1956. Ray studied voice and sang principal roles in musicals and played cornet in the band. He was a voracious reader. He grew up milking cows and logging. The Saxon Lutheran Church was his spiritual home, and he made a serious commitment to follow Jesus. That led to his decision to attend Moody Bible Institute in Chicago in the fall of 1956.
Moody introduced Ray to Chicago ministries. He also had the opportunity to travel all over the USA and much of Europe as a tenor in the Moody Chorale, and with his cornet in the brass choir. It was at Moody where he met Corean Jantz, his piano accompanist. Their marriage took place in her hometown of West Plains, Missouri on August 27, 1960.
Ray became minister of youth and music at Elim Baptist Church in Seattle in 1959, directing three choirs and three youth groups. When the senior pastor left, Ray was appointed interim pastor and found a calling in preaching and teaching. A second interim ministry followed at Dunlap Baptist Church in South Seattle, while Ray completed his BA in history at Seattle Pacific College in 1965. Son Woody was born in 1961 and Brian followed in 1963.
After graduation from SPC the family moved to inner city Chicago in 1965 so Ray could complete seminary and Corean her degrees in music. Post grad degrees followed at McCormick Seminary where Ray served as adjunct professor in Christian History. He also taught part time at Trinity College and became senior pastor of Fairfield Avenue Baptist Church from 1969 to 1979.
Ray and Corean became legal guardian to a classmate of Woody's in 1978 – Brian Davis, an African American who served as a social worker with youth and special needs adults. During his life Brian taught Ray and Corean how to look at the world through Black eyes.
While serving as pastor and professor, along with ministry colleagues, Ray began an urban training program called The Seminary Consortium for Urban Pastoral Education (SCUPE). In 1979 Ray moved on to be professor of Global Urban Ministry at Northern Baptist Seminary, and simultaneously Senior Associate for large cities working with Billy Graham's Lausanne committee and World Vision. Ray did ministry consultations in more than 200 large cities around the world between 1980 and 2000.
Ray was a founding member of the Mustard Seed Foundation Board of Directors and was a primary shaper of the guidelines and strategy of this unique family foundation. From 1983 to 2022 Ray served as a board member helping to develop grant applications that gave funding to small congregations in major cities on six continents. In 1984 Ray was invited to speak at the InterVarsity Christian Fellowship's Urbana Missions Conference. He was also a platform speaker at Urbana conferences in 1987 and 2006. In 1995 Ray helped launch the urban ministry doctoral program at Eastern Baptist Seminary in Philadelphia, and when that seminary closed to reorganize, he moved that doctoral program to Seattle as part of Northwest Graduate School where he had become Chancellor from 2000 to 2011. In 2006 Ray linked NWGS to Payne Theological Seminary, in order to build a bridge between an all-White seminary and an all-Black seminary. After a serious self-study the trustees renamed NWGS Bakke Graduate University for its primary focus was enabling scholars to turn the large cities into learning laboratories for global mission in collaboration with many denominations.

Ray wrote "The Urban Christian" and "A Theology as Big as The City" and provided 1200 articles for the Word in Life Study Bible published by Thomas Nelson. He also wrote other books and numerous articles for scholarly journals and popular magazines. His books have been translated and published in several languages, including Chinese, Spanish, Vietnamese, Danish, Arabic, French, Thai, Ukrainian, Russian, and Portuguese.
From 2012 to 2019 Ray served as Professor of Global Urban Mission in the graduate school of Bethel Seminary in Hong Kong, the historic school of the Church of Christ in China. The Ray Bakke Center at Bethel has doctoral programs for scholars in China and other countries, while immersing students in cities of India, the Philippines, and the Middle East. Ray formally retired in 2019.
Ray was preceded in death by his wife, Dr. Corean (July 24, 2021), Brian Davis (July 2018) and daughter Robyn (April 24, 1965). Ray is survived by two brothers (Dennis and Lowell, and their spouses) and a sister Marilyn Pearson. There are many beloved Bakke nieces and nephews. Ray's son Woody teaches at Lummi Nation High School. Woody's son Elijah is working on his AA degree, and is in medic training with the National Guard, currently fighting fires in the western states. Woody's daughter, Amber, along with her husband Xavier and their two children, Olivia and Micah, are on a military base in Maryland where Xavier is stationed. Son Brian and his wife Lisa live in Washington DC where Brian serves as the Director of Americas for the Mustard Seed Foundation. Brian Davis is survived by Jordan Carrier and his two children (Jordan Carrier, Jr., and A'Miyah Marie Carrier) currently residing near Tampa Bay, FL.
Ray is also survived by hundreds of Doctor of Ministry students all over the globe who were taught by him, and a multitude of daughters and sons in the faith who are involved in urban ministry around the world. He was buried next to his wife and with his extended family at the Saxon Cemetery in rural Whatcom County, Washington, on Sunday February 27th.