by Rev. Christine Youn Hung
He asked her, "Woman, why are you crying?" Thinking he was the gardener, [Mary] said, "Sir, if you have carried him away, tell me where you have put him, and I will get him." (Jn 20:15)
Imagine Mary's bone-tired weariness during the days leading to and following Christ's tragic death on the cross – her mind numb with shock and despair, her body holding the trauma in the depths of her being, and her spirit crushed with the loss of the peace, the stability, the joy that emanated from the very presence of Jesus. Her dear Rabbi, and friend, was cruelly taken from her and the future seemed dim and uncertain.
Mary's willingness to be present, even in her suffering, is striking. She remains by Jesus' side for the duration of those agonizing hours on the cross. She lingers long enough to see his body put in the tomb. She hastens back to the tomb as soon as she is able and even after finding that Jesus' body is gone, and even after the others, in their anguish, return to their homes, Mary remains.
Mary's persistence is rewarded. For Mary turns to see a man standing there and he asks her, "Woman, why are you weeping? Whom are you looking for?"
Mary assumes this man is a gardener, but this is no gardener. It's Jesus – Jesus who has conquered sin and death. How could it be possible? But it's true! He calls out her name, "Mary," and her heart stops. She has heard that voice speak her name a hundred times. She turns to him, to Jesus, and she suddenly understands. He calls her name and once again her whole world is turned around. One can't imagine that there was ever a time before that, or a time after, for the rest of her life, that the utterance of her name "Mary" would be so pregnant with meaning. It meant that Jesus has been raised from the dead! That Jesus is alive! That He is the Risen King! That Jesus is the Messiah, the Savior, the everlasting God! Hallelujah!
Many of you have been poured out like a drink offering whilst serving and loving the least of these. If this long season has left you bone-tired weary, if you have been mourning at the foot of the cross, and lamenting at the entrance of the empty tomb, take heart, for Jesus sees you, calls you by name, and has overcome the world. Imagine Jesus' joy and anticipation as he called out Mary's name, knowing what had come to pass and what will come to pass. He calls out your name with the same joy and anticipation. He is calling your name to beckon you closer into his presence where the reality of the "already" blesses and encourages us in the conditions of the "not yet." Jesus is Lord and Savior, here, right now, even in the minutest details of your life. Be as tenacious as Mary, when she clung to Jesus and sought him out even in the face of death and hopelessness. Jesus is Lord! Amen!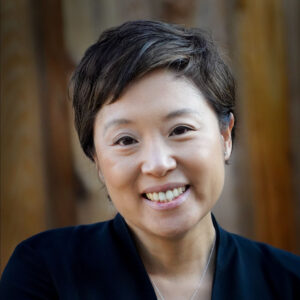 Rev. Christine Youn Hung
Rev. Christine Youn Hung is a pastor, writer, speaker, and the founder of NOW Movement, a Church of the Nazarene grassroots initiative coordinating efforts of Nazarenes in USA and Canada who are emboldened by the Spirit to pursue racial justice. Rev. Youn Hung serves as the Director of Pastoral Development for the Northern California District Church of the Nazarene, and also served as a missionary teacher in Taipei, Taiwan for three years. Rev. Youn Hung is currently pursuing her Doctor of Ministry at Nazarene Theological Seminary.

CCDA practitioners like you shared short devotionals for us to ponder about Jesus' journey to the cross and his glorious resurrection. Check them about below for some spiritual nourishment. Happy Easter CCDA Family!
You are also invited to CCDA's National Conference happening November 2 – 5, 2022 in Charlotte, North Carolina. Together, we will seek Wellbeing for our world, for our nation, for our communities, and for each other. Learn more here.