Leadership Circle Description
CCDA is excited to host this leadership circle for women of color! This group will focus on the issues that plagued women of the Bible and still impact us today. As leaders, facing personal challenges can improve our self concept, relational, spiritual and professional trajectory. Using their stories as a guide to explore our lived experiences, these four sessions are designed for self reflection, a deeper understanding of God's desire for our lives and a safe space of women who seek to soar and support one another. Women of Color in any leadership role are invited to join this opportunity.
We require a minimum of 10 participants to make this Circle happen.
Circle Schedule:
Circle 1: Leah's Life: Looking for love/the impact of rejection and trauma
According to a Forbes article entitled,' Women's Reaction To Rejection May Be Keeping Them Out Of The Corner Office', "researchers found that women are less likely than men to apply for an executive job if they had been rejected from a similar job in the past. More specifically, they are less likely to apply to the same firm that had previously rejected them. Since childhood, it has been ingrained in women that executive jobs are primarily for men. Rejection further sends home the message that women don't belong in the executive suite. It reinforces the notion that the odds are stacked against women, especially when it comes to senior positions." This is further compounded for women of color. In this session, we'll review the life of Leah and the role rejection has played in her life. We'll explore the ways in which rejection impacts both personally and professionally as well as discuss victory over the trauma it causes.
Circle 2: Deborah: Rising to the occasion in male dominated spaces
Deborah is the epitome of courageous leadership– she was a woman that dominated in a space that was occupied by men and won. "A courageous leader is an individual who's capable of making themselves better and stronger when the stakes are high and circumstances turn against that person," says Harvard Business School Professor Nancy Koehn. "Most of our lives, we're beset by crises. Courageous leaders are not cowed or intimidated. They realize that, in the midst of turbulence, there lies an extraordinary opportunity to grow and rise." Deborah in the Bible models courageous leadership. In this session, learn more about the characteristics of this leadership style and how Deborah is a lesson in leadership for us today.
Circle 3: Mary and Martha: Good work vs God work
We are often pulled in so many directions. It's easy to become overwhelmed because of the many tasks we are often asked to complete. Scripture states that we should "cease striving," (Psalm 46:10). It doesn't mean that God doesn't want us to work but we need to be mindful of the busyness that can become a distraction from the greater. Mary and Martha in the Bible contrast the difference of resting and striving. In this session, explore the importance of sitting at the feet of Jesus in the midst of a world that calls us to a life of being "on" nonstop.
Circle 4: Hagar—The Impact of Being "Othered"
Hagar was Sarah's Egyptian maidservant. When Sarah was unable to conceive a child, Hagar was given to Abraham. Hagar became pregnant and throughout her pregnancy, she became a target for Sarah. She gave birth to a son and was expelled into the desert. Yet, God protected and blessed her even as she was alone and in transition.. What happens when we are in situations that we did not create, impacted by decisions that we did not make, and find ourselves in places that are new? In this session, we'll discuss what it means to be 'othered', deal with transition, and see the hand of God throughout our desert experiences.
Dates & Times:
Thursday, May 11, 3-5pm CT
Thursday, May 18, 3-5pm CT
Thursday, May 25, 3-5pm CT
Thursday, June 1, 3-5pm CT
2023 Facilitator: Dr. Froswa' Booker-Drew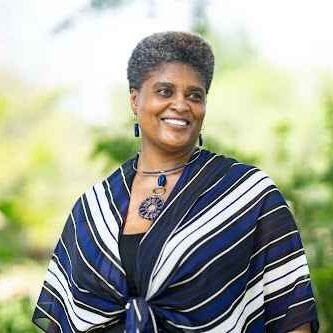 Froswa' Booker-Drew, Ph.D. is a Network Weaver who believes relationships are the key to our personal, professional, and organizational growth. She is the founder of Soulstice Consultancy, LLC providing DEI, leadership training and capacity building services. She is also co-founder of HERitage Giving Circle, one of the first Black women Giving Circles in the State of Texas and co-founder of Power in Action-Dallas. Please read her full bio here.
FAQs
How many sessions are there?
There are four sessions. Please view the schedule above.
Who can attend?
This current offering is specifically for Women of Color in leadership positions.
How can I register?
Will sessions be recorded for future purchase?
In order to maintain the integrity of providing a safe space for coaching, sessions will not be recorded.
What if I cannot attend all sessions?
Attendance and participation are imperative to each session for personal, professional, and group learning and growth. Please only consider this opportunity if you can make a full commitment.
Interested in sponsoring this event?
Contact Christina Foor at [email protected]