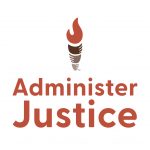 Website Administer Justice
Seek Justice. Find Freedom.
Mission: For over 20 years Administer Justice has stood in the gap to empower vulnerable neighbors with the help of a lawyer and the hope of God's love through the home of the church. We exist to invite others to use their gifts to advance God's kingdom of justice and righteousness. God's heart beats for justice for the poor which is the second most prominent theme in the Bible. Because He cares, so do we. We demonstrate this by expanding access to Justice and Jesus. 1 in 3 Americans cannot afford an attorney. In a nation that pledges "liberty and justice for all", that should not be. As Christ followers called to Administer true justice (Zechariah 7:9), that must not be. Together we can change that story.
Vision: Our vision is to see 1,000 Gospel Justice Centers transforming lives in the name of Christ. Transformation takes place as a trained team of volunteers establish neighborhood Gospel Justice Centers. Each Center is distinctly biblical, holistic, team-based, neighborhood centered, dignity giving, self-sustaining and leads back to the local church. The team provides legal, social, and spiritual support through a Justice Champion (team leader), Community Advocate, Hospitality Specialist, Prayer Champion, Client Intake Specialist, Interpreter, Attorney, Client Advocate and Follow-Up Advocate. Our logo demonstrates many diverse hands coming together to shine the light of the Holy Spirit into the darkness of injustice. We multiply impact through volunteers using their gifts to do justice, love kindness and walk humbly with God (Micah 6:8).
Values: No one does justice alone.  We believe that God is building a team at Administer Justice with people using their gifts to advance His kingdom through the pursuit of justice. We value everyone doing their P.A.R.T. (1 Corinthians 12:12) We are professional, adaptive, result-oriented, team-players. We live these values through our work knowing that we serve the Lord Jesus Christ. We embrace the truth that "Whatever you do, work heartily, as for the Lord and not for men." Colossians 3:23. Our values drive us to measure and improve results. We perform with excellence because we know we will give an account. This drives us to work through three teams to engage, equip and ensure great outcomes. As a team we use a model called Traction to align our mission, vision, and values. We align ourselves around a common desire to get it, want it and have the capacity to do our role.
Your Role: Your role is to lead and oversee Administer Justice's launch operations. You and our Launch Specialists support, guide, and encourage Justice Champions as they work to bring their Gospel Justice Center from an idea to reality. As Launch Director, you also monitor the launch operations and identify ways to improve and simplify them. When barriers arise, you help the team find creative solutions to maintain their momentum and ensure their Grand Opening happens without significant delay. Finally, you support new GJC teams in their first 6 months of operation as they get settled into their monthly rhythm, ensuring their energy and enthusiasm persists beyond the excitement of the launch.
Reports to: Vice President of Legal Services
Location: Elgin, IL (hybrid office: 2 days/week required in person)
Your Team: The Launch Director will serve on the Equip Team which is responsible for program delivery. Presently the team includes:
VP of Legal Services (Equip Team Leader) (40 hrs/wk)
Senior Director of Operational Excellence (40 hrs/wk)
Support Director (40 hrs/wk)
Support Specialist (40 hrs/wk)
2x Saturday Support Specialists (8 hrs/wk)
Launch Director (hiring)
Senior National Launch Specialist (30 hrs/wk)
Who you are:
You are a leader who loves making connections with people, motivating and inspiring others to help them achieve their goals. You are self-confident and have strong initiative.  A sincere appreciation for people and how they are each uniquely motivated is the foundation for your interactions with others. You confidently make decisions and delegate tasks to others. You thrive when you are free from rigid structures and given opportunities to collaborate and innovate. Constructive feedback in the past has been that you are too talkative, casual, or not focused enough on details.
Your role within this team is to:
Proactively encourage, support, and excite new Justice Champions (JCs) who have agreed to launch a Gospel Justice Center (GJC) as they build their team and prepare their Center for launch!
Stay in constant contact with JCs who are experiencing barriers to launching by helping them problem-solve through the challenges they face
Direct and proactively improve and simplify AJ's GJC launch process workflows to make them as efficient and easy to carry out as possible
Ensure new centers receive launch kits in a timely manner, including materials, banner, and signage
Ensure new teams are well-trained and well-supported on community advocacy (client marketing) so centers become known in their community and clients can book appointments as soon as they open
Manage a Launch Specialist who is responsible for GJC launch and volunteer onboarding workflows Onboard new volunteers to ensure they have the systems and support they need to be successful
Onboard new volunteers to ensure they have the systems and support they need to be successful
Manage AJ's webstore
The impact you'll have: When done well you will experience joy from:
Seeing God use you to multiply impact through volunteers as they use their God-given gifts to serve others.
Inspiring Justice Champions as they build their volunteer team so more clients can be served with the help of a lawyer and the hope of God's love in local communities across the country. You will witness the Holy Spirit transforming the lives of volunteers as they serve.
Seeing God use you to break down barriers for others so they are equipped to serve and excited to do so. As you step back and see the service impact across the ministry, blessing comes from knowing God used you in a significant way to make that possible.
Success in this role is measured by:
Percentage of Justice Champions who sign up to open a center and then host a Grand Opening
Justice Champion satisfaction scores with the Launch Process
Time between volunteers finishing training online and getting onboarded
Clients per month within the first six months of operation of new GJCs
Skills and qualifications:
In a growing, energetic relationship with Jesus & aligned with Administer Justice's Statement of Faith
A warm, enthusiastic, and outgoing personality who genuinely enjoys engaging with volunteers over video calls, phone calls, email, and text message communications
Excited by a fast-paced, growing ministry environment
Experience connecting with, training, and motivating volunteers
Experience managing other staff effectively
Enjoys managing multiple interlocking workflows and varying tasks at a high volume
Good with software systems – types 45 WPM minimum
Familiarity with Jira, Tallyfy, and/or MS Teams a plus
College degree preferred
Schedule: This position is full time exempt, 40 hours per week.
Compensation/benefits: $46,000-$48,000 annually. Medical insurance, dental insurance, vision insurance, FSA – Medical or HSA, FSA – Dependent Care, 14 paid holidays, 15 PTO days (starting), retirement plan with 3% employer match, $75 per month phone stipend, and $1,000/year Professional Development stipend.