Hope
by Adriana Mondragon-Hill
Through every mountain high and every valley low, God reveals Himself to be true to His Word and promises. I choose to trust Christ daily, especially during seasons of turbulence, whether in my personal life or throughout the world. Trusting Christ reminds me that I cannot be a true follower without hope.
My entire faith is based on the hope I've read about in Scripture.
Time after time, I have found that difficult situations reveal our character and the faith we profess in Christ.
The reality is, until Christ returns, His promises are a continuous fountain of hope that connect us to God. The faith we profess in God through Christ and the help of the Holy Spirit is only as real as our relationship is with the living God.
Brothers and sisters, as a person of color, a woman, a person of lower socioeconomic status, fatherless, and an undocumented immigrant, it was excruciating to see myself through the eyes of this world: a cursed human being.
That is, until I learned my true identity.
As a human being created in the image of God, I was wonderfully and fearfully made. Above all other labels, I am a child of God.
Nowhere have I have found greater hope and courage than in our Lord and Savior Jesus Christ.
God endlessly reveals His tender mercies, which are new every morning – Hallelujah – grace, and love for all that call out to Him.
Interestingly, the difficulties, challenges, and pain I have faced have revealed God's abundant love, faithfulness, and provision in my life. I leave you with God's Word, from where my hope has been strengthened.

Taste and see that the Lord is good;
blessed is the one who takes refuge in him.


Psalm 34:8
So do not fear, for I am with you;
do not be dismayed, for I am your God.
I will strengthen you and help you;
I will uphold you with my righteous right hand.


Isaiah 41:10
5 Trust in the Lord with all your heart
and lean not on your own understanding;

6 in all your ways submit to him,
and he will make your paths straight.


Proverbs 3:5-6
He has shown you, O mortal, what is good.
And what does the Lord require of you?
To act justly and to love mercy
and to walk humbly with your God.

Micah 6:8
For I know the plans I have for you," declares the Lord, "plans to prosper you and not to harm you, plans to give you hope and a future.

Jeremiah 29:11
"I have told you these things, so that in me you may have peace. In this world you will have trouble. But take heart! I have overcome the world."

John 16:33
Let us hold unswervingly to the hope we profess, for he who promised is faithful.

Hebrews 10:23
22 Because of the Lord's great love we are not consumed,
for his compassions never fail.

23 They are new every morning;
great is your faithfulness.

24 I say to myself, "The Lord is my portion;
therefore I will wait for him."

Lamentations 3:22-24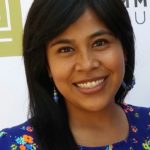 Adriana Mondragon-Hill was born in Guerrero, Mexico, and came to the US with her mother at the age of 5. She graduated from Biola University (in CA) with a BA in psychology. Adriana earned her MA in psychology from Chapman University (in CA) in 2009. In 2012, as a DREAMer, Adriana became a DACA recipient and was able to begin pursuing her license as a Marriage and Family Therapist.