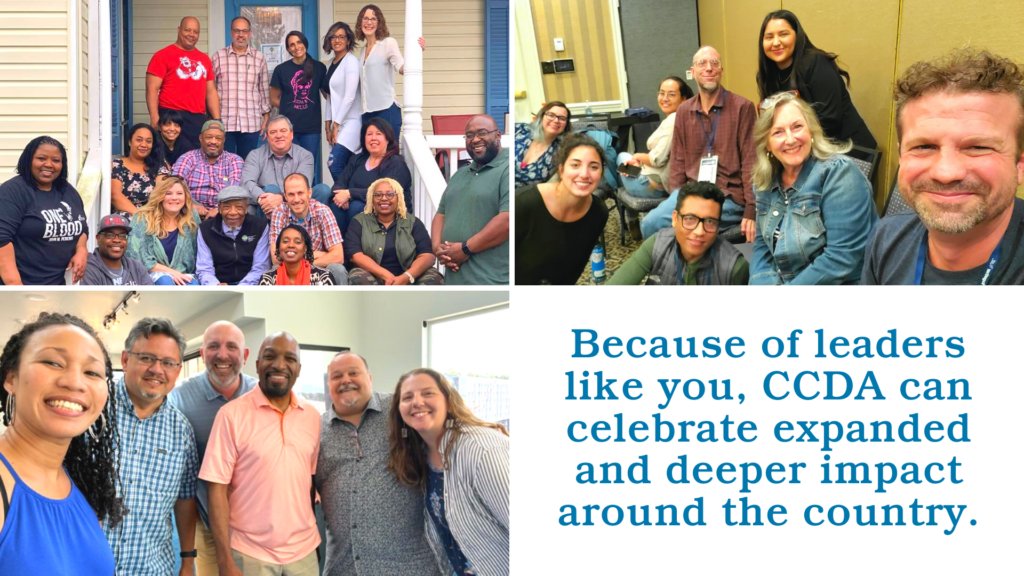 Hello CCDA friends and family,
I am so amazed by you!
Fresh out of an incredibly restorative and healing space in the 2022 National Conference in Charlotte, NC, I remain overwhelmed by the depth of your commitment to be fully engaged in the life and flourishing of your communities.
Because of leaders like you, and despite a challenging 2022, CCDA can celebrate expanded and deeper impact around the country. Friends, CCDA has reached our largest membership ever. We have a growing set of affinity based networks with members dedicated to addressing the most pressing and relevant issues in our country. And, we have significantly expanded our educational and equipping opportunities.
In the midst of (and because of) this growth, we have a critical need. CCDA needs your help in matching our capacity with our opportunity.
CCDA believes that every leader, including you, serving within marginalized communities should have access to resources and networks that help them remain faithful to bearing witness to the Kingdom of God in their community. Therefore, we strive to create a world in which leaders can connect to new collaborators for ministry, experience authentic community, and access spaces that inspire continued learning.
We are making tremendous progress toward these goals, but need your help to be able to take some exciting new steps in 2023.
Will you contribute toward our $25k end of year fundraising goal? Your gift will help fortify and enhance the work of CCDA. You can donate by submitting your donation online below or by sending a check to CCDA, 3827 W. Ogden Ave, Chicago, Illinois 60623.

Blessings,
Interim CEO/President

Give Today!
Powered by Wild Apricot
Membership Software