Noel Castellanos
In 1989, I was living in San Jose, California where I worked in ministry with Latino youth. Like many leaders in urban communities, I was struggling to establish a ministry that was both relevant and impactful. I came to realize there were needs in the community to be addressed, needs that weren't in my job description as a youth worker.
Discovering New Wineskins
Intuitively, I knew that to be truly effective, I would need to expand my understanding of community ministry. In the early part of that year, Dr. John M. Perkins came to speak in San Jose about the three R's of Christian Community Development. Providentially, I was able to participate in those meetings.
Like many of you who have been connected with CCDA, my encounter with Dr. Perkins and his biblical teaching on Reconciliation and Community Development had a huge impact on my thinking. During that meeting, Dr. Perkins invited attendees to take a trip to Chicago…
We are Not Alone, and We Are Not Crazy
In October of 1989, I joined 100 like-minded leaders committed to wholistic ministry, each of us moved by the teachings of Dr. Perkins and his insights from the Bible. I stepped off of the plane and onto a Blue Line train in Chicago. I got off at the Central Park Station, located on the border of the North Lawndale and La Villita neighborhoods. I walked the two blocks from the station to Lawndale Christian Community Church. What I found there was an expression of Resilience.
Lawndale Christian Community Church was established on the westside of Chicago by President Emeritus of CCDA, Coach Gordon, along with a dozen high school students. Almost fifteen years later, the church was beginning to take root.
There were just over 100 members attending the church, many of them young people. Together, these youth dug out a gymnasium to offer a safe and positive place for youth in the community to play ball and learn about Christ. LCCC established a small clinic to address the health needs of the residents. They created a ministry to provide affordable housing for Lawndale residents. Most importantly, these ministries were the result of listening to the residents hopes for a strong neighborhood. The fact that Coach, his wife Anne and these students lived in North Lawndale allowed them to learn to love their neighborhood.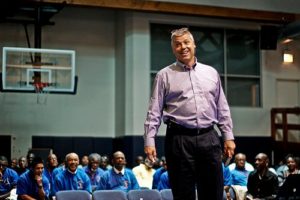 Everything I saw impressed me, though the Lawndale ministries were nowhere near as developed as they are today. Lawndale Christian Community Church has grown into a transforming agent in the neighborhood due to the resilience of Coach and those committed core leaders.
Discovering Our Call
By the end of our gathering in Chicago, this diverse group of 100 leaders had established what is now the Christian Community Development Association. My time at that important meeting served as the catalyst for my move from San Diego to Chicago and gave me the vision to establish a CCD Ministry in the Mexican community of La Villita.
Over the past 30 years, thousands of leaders like you have attended a CCDA conference, and it has changed your view on ministry in under-resourced neighborhoods. Some of you discovered your calling from God to invest your lives in a particular neighborhood. Others went home and reshaped your churches to be more wholistic. Still others met your spouses while salsa dancing the night away.
CCDA has been so important to me and my family over the years. That's why I want to encourage every Christ-follower with a burden for the vulnerable and their neighborhoods to become a part of the CCDA familia. Come to Chicago, but be forewarned, it could change your life!