Immersion Registration Is Now Open!
Participants in this year's Immersion will enjoy in-depth training in the Christian Community Development philosophy, combined with opportunities to visit CCD ministries such as Pui Tak, Breakthrough, Grace and Peace Community Church, Lawndale Christian Legal Center, River City Community Church, Little Village Urban Life Skills, and Lawndale Christian Health Center.
Chicago serves as our primary host city for the Immersion due to the number and variety of these diverse CCDA ministries available for site visits. Take advantage of the opportunity to hear from and get to know leaders such as Jonathan Brooks, Dominique Gilliard, Sandra Van Opstal, Michelle Warren, Mayra Macedo-Nolan, Rudy Carrasco, and some of the founders of CCDA, Wayne "Coach" Gordon and Mary Nelson.
This week-long event offers dynamic training sessions in CCDA's 8 principles, as well as the chance to experience CCD philosophy in action in diverse multicultural, multiethnic Chicago neighborhoods including Little Village, Lawndale, and Chinatown. Don't miss the opportunity to be inspired, trained and connected at #Immersion2018!
Member Price $695
Non-member Price $995
Be among the first 20 members to register and receive a $100 discount!
Registration covers housing for the week, breakfast and lunch daily, training materials, and transportation to all site visits.
Registration closes May 24, 2018.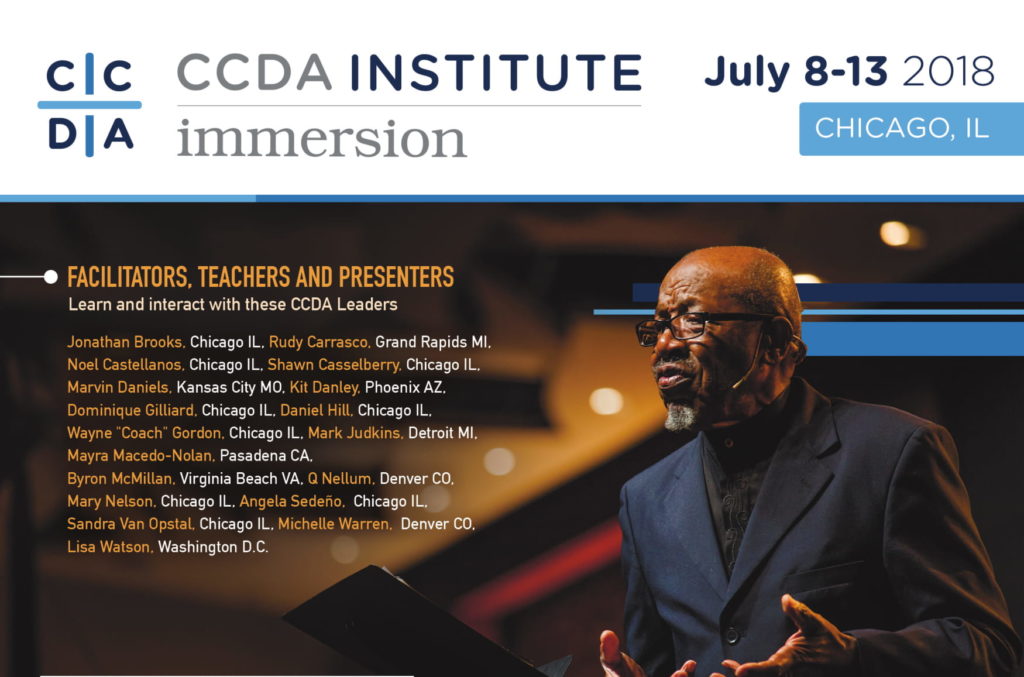 Testimonies from Former Immersion Participants
"It was one of the best decisions I've made in a while. It has [had] immense significance for the ministry I am part of."
"This week has changed my life. I am blessed to have been a part of it and I have already begun the process of sharing these tools with my local church and churches in my city. Time to go to work!"
"[The Immersion] gave me a vision of what the church can be when it lives out the whole gospel. [It] helped me to see the sacrificial, incarnational, joyous love that is foundational to CCD."
"[The] Immersion was life-changing and life-giving to me. It has changed how I see/approach my marriage, it is changing how we are approaching the opportunity… to help plant a church in our neighborhood, and it has challenged me to re-think the way we approach involving/listening to our community in the programs that we already have up and running."