We are ​ROOTED​ in a deep and abiding faith in God, a call to community and place, and a commitment to persevere in hope for the long haul. Chicago is a city that is rooted by the water, a city of neighborhoods, cultures, creativity, and prophetic change. Chicago is where the movement of CCDA began 30 years ago through inspired men and women who were rooted in relationship and reconciliation.
"But blessed are those who trust in the LORD and have made the LORD their hope and confidence. They are like trees planted along a riverbank, with roots that reach deep into the water. Such trees are not bothered by the heat or worried by long months of drought. Their leaves stay green, and they never stop producing fruit." Jeremiah 17:7-8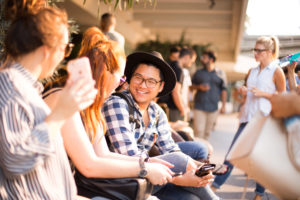 Like this city, CCDA has faced the fires of adversity; and like this city, we are still standing strong because we have remained rooted. Through our members, we have been able to develop deep roots in Chicago and in communities across the nation and world. We are a people who trust in the Lord. We are like trees planted by the water. We are not driven by fear or overcome by despair, but we stay rooted in Christ so we may produce the lasting fruits of love, equity, and peace.