You are cordially invited to take advantage of a terrific opportunity at the 2020 Vision CCDA National Conference in Kansas City!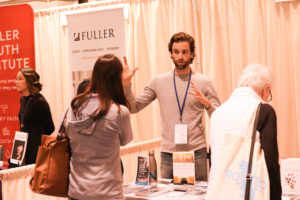 Each year, the CCDA National Conference brings together community development and justice advocates from across the country for a week of encouragement and growth. Conference speakers, workshops, site visits, and conversations cultivate an environment where attendees are inspired and prepared to rebuild neighborhoods and lives across the nation and the globe.
There is nothing that can match the energy, excitement, and encouragement generated by 2,000 like-minded people who share a heart for reconciliation and community development.
Apply for your 2020 Vision exhibit space
Details
Expected Conference Attendance: ​2,000

Conference Location: Kansas City Downtown Marriott, Kansas City, Missouri
| | | |
| --- | --- | --- |
| Pricing | *Organizational member discount (25%) | Non-member |
| Premium | $2,250 | $3,000 |
| Standard | $1,125 | $1,500 |
Become a Member (special pricing!)
Booth price includes:
One exhibit booth

6′ high back wall

3′ high side drape

2 Chairs

1 Wastebasket

Listing in program book and interactive map on CCDA website

Two conference registrations per booth (including name tag and materials) 
Booth level and size:
8'x10'
Premium Booth
As a premium booth exhibitor, you will receive priority booth selection in the exhibit space.
Program book ad:
Exhibitors may reserve an ad space in our program book for a 25% discount ​(cannot be combined with member discount).  Please visit here for more information on advertising.
Special deals:
We encourage all organizations to consider offering a special deal for CCDA conference attendees, such as discounts, giveaways, or unique opportunities. We have seen that this naturally increases participation. For example, you can offer 20% off products (books, tuition, handmade crafts, merchandise, etc.) or a promo for first-time services (complimentary consultation, software trial, waived retreat/training fee, etc.). 
Exhibitor set-up:  
Wednesday, 9/30, 8am-12pm 
Open Exhibitor hours:
Exhibit Hours: Wednesday, 9/30, 5pm-9pm (closed during plenary sessions)
Exhibit Hours: Thursday, 10/1, 8am-9pm (closed during plenary sessions)
Exhibit Hours: Friday, 10/2, 8am-9pm (closed during plenary sessions)
Exhibit Hours: Saturday, 10/3, 8am-12pm (closed during plenary sessions)
Exhibitor move-out: 
Saturday, 10/3, 12pm-4pm 
Advance shipments and exhibitor services:
Liberty Expositions will email the Exhibitor Services Kit and Utilities Order Form directly to you once your booth is selected and payment received.  
Cancellation Policy:​ 
Booths must be cancelled​ before August 1, 2020​ for a partial refund. After August 1, 2020, we cannot issue refunds.
Default of Occupancy: ​
Any exhibitor failing to occupy their contracted exhibit space by Wednesday, September 30, 2020 by 7:00pm is obligated to pay the full cost of such space. In the event of cancellation or default, all obligations of CCDA to the exhibitor shall cease, and CCDA shall have the right to use said space to suit its own convenience, including selling the space to another exhibitor without any rebate or allowance to the defaulting exhibitor.
Limitations of Liability:​ 
The exhibitor shall be fully responsible to pay for any and all damages to the Kansas City Downtown Marriott which results from any act or omission of the exhibitor. The exhibitor agrees to defend, indemnify, and hold harmless Kansas City Downtown Marriott, CCDA, and its employees from any damages or charges resulting from the exhibitor's use of the property. The exhibitor's liability shall include all losses, costs, damages, or expenses arising from or out of or by reason of any accident or bodily injury or other occurrences to any person or persons, including the exhibitor, its agents, employees, and business invitees which arise from or out of the exhibitor's occupancy and use of the exhibition premises, Kansas City Downtown Marriott, or any part thereof. Further, neither CCDA nor its respective agents, employees, officers, or directors shall be liable for failure of the scheduled exhibition to be held due to fire, water damage, public emergency, strikes, other labor disputes, boycotts, cancellation of facility contracts, or acts of God beyond the power or control of CCDA to prevent. In the event of a cancellation, a full refund will be made to the exhibitor.
Conference cancellation:​ 
In the event of any unavoidable circumstance(s) making it necessary to cancel the 2020 Vision National Conference, CCDA shall not be held liable.  In such an event, all payments made by the Exhibitor for the exhibit space will be returned.
Insurance:​ 
It shall be the responsibility of the exhibitor to secure necessary insurance coverage. The exhibitor acknowledges that neither CCDA nor Kansas City Downtown Marriott  maintains insurance covering the exhibitor's property and it is the sole responsibility of the exhibitor to obtain business interruption, property damage, and liability coverage covering any such losses or claims. 
Invoice
You will receive an invoice for your Exhibitor Booth via email and can pay the invoice via the online link or send a check to CCDA, 3827 W. Ogden Ave., Chicago, 60623 within 30 days of receipt. If you would like to create an installment payment plan, please contact Mary Beth Meadows at [email protected]. 
Conference Parking
Parking options for Kansas City Marriott Downtown can be found here.