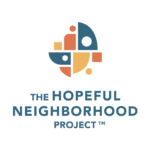 Website Hopeful Neighborhood Project
Blog contributors for the Hopeful Neighborhood Project help us inspire, encourage and equip everyday people to pursue the common good in their neighborhood. We are looking for people with experience (volunteer experience counts) working with their neighbors, in their own neighborhood, to increase neighborhood well-being. The blog can be stories (yours or those used with permission), educational, or seasonal. We are not looking for thought pieces or opinion pieces. Our audience is a mixture of Christian and non-Christian readers, though we always work from the assumption that our readership is non-Christian when writing.
If you are interested in becoming a blog contributor, please email the following information to [email protected]:
1) A writing sample of 300-500 words.
2) A summary of your experience working in your neighborhood.
3) A recent resume'.
Blog contributors are contracted initially for 1-3 pieces with the option to extend. The stipend is $150 per blog post, paid after the piece is edited and approved for posting.