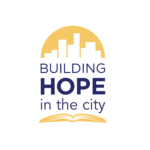 Website Building Hope in the City
Job Description
Manager, Human Resources
Full time with health insurance and retirement benefits
Position summary
Building Hope in the City (BHITC) is fast-paced and growing organization that seeks to advance the good of the city, magnify the mission of Jesus and unleash the capability of underestimated people. The Human Resources Manager is key to this transformational work in Cleveland, supporting daily operations and ministry success with professionalism, excellence and consistency.
The Manager's role will span BHITC and its social enterprises. These divisions have separate HR policies that need greater overall alignment and integrated ongoing coordination. In total, the organization employs 70+ people.
The selected candidate will join a dynamic movement of disciples committed to using a faith-forward approach in addressing city challenges and making hope in Jesus Christ tangible. How the organization orders and manages itself internally is a foundational part of its public witness.
Duties and Responsibilities
Partner with the leadership team to understand and execute the organization's human resource and talent strategy
•       Current and future talent needs
•       Recruiting and preliminary interviewing
•       New hire onboarding process
•       Employee retention and succession planning
Development of programs and initiatives to enhance BHITC organizational and employee improvement and growth
•       Implementation of comprehensive HRIS system
•       Provide organizational coaching for employees, as needed; foster learning and personal development based on employee duties and organizational needs
•       Support timely performance evaluations
Oversee employee relation matters
•       Investigate allegations of wrongdoing
•       Facilitate disciplinary meetings or employee termination, when needed
•       Construct and participate in execution of corrective counseling
Leader in championing company policies and procedures
•       Maintain knowledge of federal, state and local employment laws
•       Author and enact FMLA program
•       Periodic compensation and benefit analysis
•       Creation of organizational policies and best practices
Qualifications
•       Bachelor's degree in Human Resources strongly preferred; PHR certification
•       Five or more years of experience in human resources; preferably within a nonprofit setting
•       Strong organizational, planning, and conflict resolution skills with keen ability to multi-task and prioritize work
•       Ability to develop and update administrative systems to improve efficiency
•       Able to handle sensitive information in a confidential manner
•       Excellent written and verbal communication skills
•       Passion for the mission of BHITC