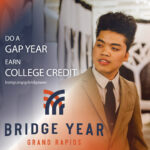 Website Bridge Street Ministries
Gain ministry experience. Earn College Credit.
What if you could gain ministry experience while earning college credit? Grand Rapids Bridge Year is an 8-month gap year experience for post high school students (ages 18-25), centered around spiritual formation and community development. Bridge Year provides the opportunity to be rooted in community, living intentionally with other students while learning from and serving in their neighborhood. Bridge Year students learn from a diverse group of community leaders while also serving as Youth Empowerment Interns with Resurgence, our after school program. Additionally students have the opportunity to travel internationally and experience the kingdom of God in a cross cultural context!
Through college partnerships, students can earn up to 22 college credits. Present College Partners include Calvin University, Grace Christian University, Kuyper College, Bethany Global University, and Trinity Christian College.
For more information, email Adam Vanderwell (Bridge Year Director) [email protected] or complete an application at https://bsmgr.org/grbridgeyear/5e-app/