Host The Next CCDA National Conference
Is your city the next CCDA city?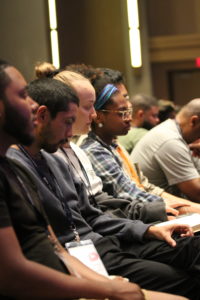 CCDA is currently accepting applications for a host city for the 2021 CCDA National Conference. Our National Conference is an annual gathering of practitioners and partners who come together to be inspired, trained, and connected as they bear witness to the Kingdom of God by reclaiming and restoring under-resourced communities.
How to apply:
Step one: Find the committed CCD practitioners and partners in your city and form an exploratory team.
Step two: Determine the financial and logistical foundation your team can provide to support the CCDA National Conference.
Step three: Fill out the digital RPF by January 20, 2020.
---
Benefits of being a host city
Experiential education

Big idea execution

National publicity
Community building

Social media buzz

The spotlight on CCD in your communities
CCDA members are a network of Christians committed to seeing people and communities wholistically restored. We believe that God wants to restore us not only to right relationships with Himself but also with our own true selves, our families and our communities. Not just spiritually, but emotionally, physically, economically and socially. Not by offering mercy alone, but by undergirding mercy with justice.
To this end, we follow Jesus's example of reconciliation. We go where the brokenness is. We live among the people in some of America's neediest neighborhoods. We become one with our neighbors until there is no longer an "us" and "them" but only a "we."
In the words of the Prophet Jeremiah, "we work and pray for the well-being of our city" trusting that if the entire community does well and prospers, then we will prosper also.
What we are looking for in a host city
Local leadership

Theme development

Venues and contacts

Go & See coordination
Engaged host team

Idea generation

Local knowledge

Financial sponsorship development